event Model Generation (EMG) Canvas workshop event14
by
Alexis van Dam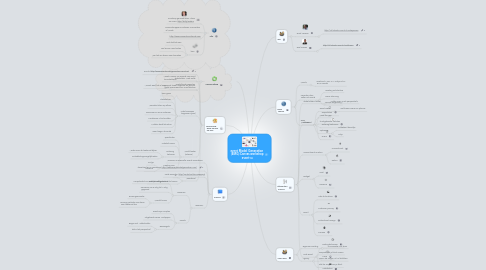 5.0
stars -
1
reviews range from
0
to
5
event Model Generation (EMG) Canvas workshop event14
wie
Ruud Janssen
http://ch.linkedin.com/in/ruudwjanssen
Roel Frissen
http://nl.linkedin.com/in/roelfrissen
EMG canvas
Winst?
Overheid 1 jaar: in 1 uurtje m.b.v. EMG canvas
Inspiratie door zaken uit events
meeting architecture
Game storming
Service enginering
Basis probleem:
Event owner, Gat tussen owner en planner
Mind the gap
te uitgebreide verhalen
oplossing, Achterkant bierviltje, A4tje
Elementen Canvas
Stakeholders helder
Welke neem je als perspectief?
Pre Event
Expectation
Entering behaviour
Gains
Commitment & return
Commitment
Return
Budget
Cost
Revenue
Event
Jobs to be done
Customer journey
Instructional Design
Promise
Post Event
Exiting behaviour
Pains
Satisfaction
Voor wie?
Eigenaar meeting
Conversatie met team
Agency
Gesprek met je klant voeren
Neem de vragen uit 14 blokkken
Stel de vragen aan je klant
Canvas
Waarom? Succesvolle events veranderen
Korte animatie: http://youtu.be/okoXIqwQqLk
waarom?
Hersenen, Complexiteit van event wordt gekaderd, Hersenen van 0,5 kg tot 1,5 kg gegroeid, Verschil brein?, Ervaringssimuator, Ervaring verleden simuleren naar toekomst toe
events, events zijn complex, Uitgebeide versie 10 stappen, Basisregels, Begin met 1 stakeholder, dat is het perspectief
Toepassing EMG Canvas op NSS
stakeholder: Mark Rutte
Verschillende aspecten waar aan moet denken
Visueel want het is leeg
Links bovenaan begonnen (pain)
Toen gains
Statisfaction
Woorden leken op elkaar
Bovenaan en erna onderaan
Pas daarna in het midden
Midden biedt structuur
Geen begin als einde
World leader (Obama)
Specificatie
Initiatief nemer
Entering behavior, Verder naar de toekomst kijken, Ontwikkelingsmogelijkheden
Meeting NSS, G7/g8, Revenue
Waardevol
Ja
Wel tijd nodig om er in te komen
Samenvatting
Visuele manier om waarde van event te verhelderen
Gesprek tussen eigenaar en planner goed voeren
info
mindmap gemaakt door Alexis van Dam: http://bit.ly/avdam
Livemindmapper & adviseur Connection of Minds
http://www.connectionofminds.com
lees
met de klok mee
van binnen naar buiten
per tak van boven naar beneden