Outsourcing Professional Body of Knowledge (OPBOK®) study guide mind map
by
Mirosław Dąbrowski, COO, Agile&IT Coach, Trainer, Consultant, Product Owner, Entrepreneur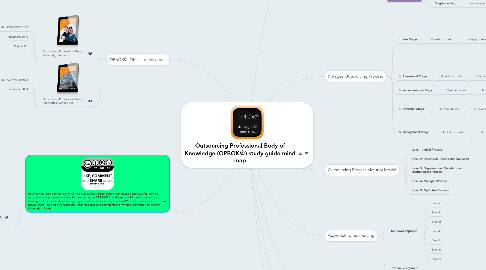 5.0
stars -
27
reviews range from
0
to
5
Outsourcing Professional Body of Knowledge (OPBOK®) study guide mind map
Outsourcing Professional Body of Knowledge (OPBOK®) is a trademark of the International Association of Outsourcing Professionals® (IAOP®). Trademarks are properties of the holders, who are not affiliated with mind map author.
Outsourcing
types
Objective based, Strategic sourcing, Tactical outsourcing, Transformational outsourcing
Organizational service delivery based, Bundled sourcing, Co-sourcing, Consortium sourcing, Crowd sourcing, Global sourcing, Nearshore outsourcing, Rural sourcing, geographic-based (offshoring), Best-Shore outsourcing, aka. bestshoring, Nearshore outsourcing, aka. nearshoring, Offshore outsourcing, aka. offshoring, Onshore outsourcing, aka. onshore, Rural shoring
Process type based, Business Process Outsourcing (BPO), Information Technology Outsourcing (ITO), aka. IT sub-contracting, Knowledge Process Outsourcing (KPO)
Scope based, Full outsourcing, aka. total outsourcing, Selective sourcing
Supplier strategy based, Multi-sourcing, Single sourcing, aka. sole sourcing
5 stages Outsourcing Process
1. Idea Stage
Question to ask:, Is it appropriate?, Alignment with business strategy?, Core competency?, High level cost/benefits acceptable?, Acceptable risk?, Competitive advantage?, Legal, ethical, etc.?
2. Assessment Stage
Question to ask:, Is it real?, Acceptable business case?, Acceptable risk?
3. Implementation Stage
Question to ask:, Is is a deal?, Approved contract?
4. Transition Stage
Question to ask:, Is it executable?, Approved pilot?, Approve transition plan?, Assess transition and fix issues as necessary
5. Management Stage
Question to ask:, Is it operable?, Governance and metrics being met?, Renew, expand, disengage?
Outsourcing Process Maturity Model
Level 1: Initial Process
Level 2: Structured Process and Standards
Level 3: Organizational Standards and Institutionized Process
Level 4: Managed Process
Level 5: Optimized Process
Approach to outsourcing
Top-down approach
Step 1:
Step 2:
Step 3:
Step 4:
Step 5:
Step 6:
Step 7:
Bottom-up approach
Interactive Glossary
Barriers to outsourcing
Loss of control
Too critical to be outsourced
Loss of lexibility
Negative customer reaction
Employee resistance
Poor or lack of efective outsourcing process, performance metrics and project management
The Certiied Outsourcing Professional (COP)
Guide to Becoming a Certiied Outsourcing Professional (COP)
http://www.iaop.org/Download/Download.aspx?ID=389&AID=1676&SID=34&SSID=201&RP=%2FFirmbuilder%2FArticles%2F34%2F201%2F1676
Certiied Outsourcing Professional (COP) Preparation Class
Certiied Outsourcing Professional (COP) Master Class
Advanced Certiied Outsourcing Professional Classes
Outsourcing Professional Course Catalogue
Certiied Outsourcing Professional (COP) Award Package
OPBOK® Official publications
Outsourcing Professional Body of Knowledge (Verison 9)
ISBN-13: 978-9087536138
Published: 2010
Pages: 352
Outsourcing Professional Body of Knowledge (Verison 10)
ISBN-13: 978-9401800006
Published: 2014
This freeware, non-commercial mind map was carefully hand crafted with passion and love for learning and constant improvement as well for promotion the OPBOK® knowledge and BA profession and as a learning tool for candidates wanting to gain Certified Outsourcing Specialist™ (COS) qualification. (please share, like and give feedback - your feedback and comments are my main motivation for further elaboration. THX!)
http://www.linkedin.com/in/miroslawdabrowski
https://www.google.com/+MiroslawDabrowski
https://play.spotify.com/user/miroslawdabrowski/
http://www.miroslawdabrowski.com
https://twitter.com/mirodabrowski
miroslaw_dabrowski