Time line 2009
by adrian acosta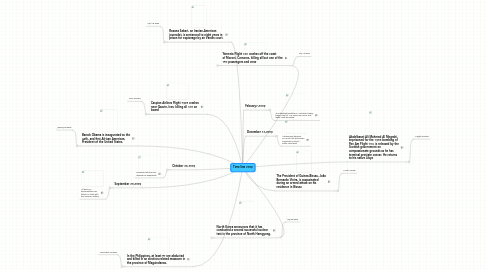 1. In the Philippines, at least 57 are abducted and killed in an election-related massacre in the province of Maguindanao.
1.1. November 23,2009
2. Caspian Airlines Flight 7908 crashes near Qazvin, Iran, killing all 168 on board
2.1. June 30,2009
3. Yemenia Flight 626 crashes off the coast of Moroni, Comoros, killing all but one of the 153 passengers and crew
3.1. July 15,2009
4. Abdelbaset Ali Mohmed Al Megrahi, imprisoned for the 1988 bombing of Pan Am Flight 103, is released by the Scottish government on compassionate grounds as he has terminal prostate cancer. He returns to his native Libya
4.1. August 20,2009
5. Roxana Saberi, an Iranian-American journalist, is sentenced to eight years in prison for espionage by an Iranian court.
5.1. April 18 2009
6. Barack Obama is inaugurated as the 44th, and first African American, President of the United States.
6.1. january 20,2009
7. Febuary7,2009
7.1. The deadliest bushfires in Australian history begin; they kill 173, injure 500 more, and leave 7,500 homeless.
8. The President of Guinea-Bissau, João Bernardo Vieira, is assassinated during an armed attack on his residence in Bissau
8.1. March 2,2009
9. North Korea announces that it has conducted a second successful nuclear test in the province of North Hamgyong.
9.1. May 25,2009
10. September 28,2009
10.1. At least 157 demonstrators are killed in a clash with the Guinean military.
11. October 20,2009
11.1. European astronomers discover 32 exoplanets
12. December 16,2009
12.1. Astronomers discover GJ1214b, the first-known exoplanet on which water could exist