Agile World
by
Mirosław Dąbrowski, COO, Agile&IT Coach, Trainer, Consultant, Product Owner, Entrepreneur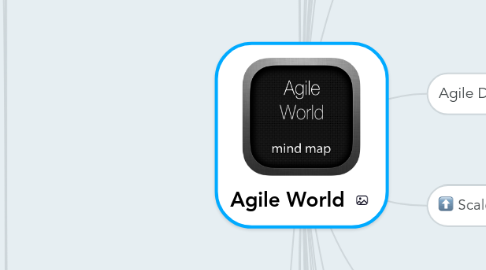 5.0
stars -
220
reviews range from
0
to
5
Agile World
Personal Software Process (PSP)
http://www.sei.cmu.edu/reports/00tr022.pdf
Test Driven Development (TDD)
https://en.wikipedia.org/wiki/Test-driven_development
derived
Domain Driven Design (DDD)
by Eric Evans
http://domaindrivendesign.org/
Joint Application Development (JAD)
by Chuck Morris, Tony Crawford; late 1970s
derived
Adaptive Project Framework
by Robert K. Wysocki Ph.D.
Continous Integration (CI)
https://en.wikipedia.org/wiki/Continuous_integration
derived
eXtreme Programming (XP)
by Kent Beck, Erich Gamma; 1999
https://en.wikipedia.org/wiki/Extreme_programming
www.extremeprogramming.org/map/project.html
Agile Data (AD)
www.agiledata.org
Scaled Agile Framework (SAFe)
by Dean Leffingwell; 2012 v1.0
www.scaledagileframework.com
Feature Driven Developmement (FDD)
IT only
by Peter Coad, Jeff DeLuca; 1997
https://en.wikipedia.org/wiki/Feature-driven_development
Scrum
by Ken Schwaber, Sutherland, Beedle; 2001
www.scrum.org
www.scrumalliance.org
derived
derived
derived
Kanban
Lean Software Development
by Mary Poppendieck, Tom Poppendieck; 2003
Sappient|Approach
Unified Process
by Jacobson, Kruchten, Royce, Kroll
derived
Continuous Delivery (CD)
Continuous Delivery doesn't mean every change is deployed to production ASAP. It means every change is proven to be deployable at any time
https://en.wikipedia.org/wiki/Continuous_delivery
Crystal Methodologies
by Allistar Cockburn; 1998
Comprised of a family of agile methodologies such as Crystal Clear, Crystal Yellow, Crystal Orange and others.
Crystal Clear
Crystal Yellow
Crystal Orange
Crystal Orange Web
Crystal Maroon
Crystal Diamond
Crystal Sapphire
Adaptive Software Development (ASD)
by Jim Highsmith, Sam Bayer; 2000
https://en.wikipedia.org/wiki/Adaptive_software_development
DevOps
This freeware, non-commercial mind map was carefully hand crafted with passion and love for learning and constant improvement ... (please share, like and give feedback - your feedback and comments are my main motivation for further elaboration. THX!)
Legend
Icon
What is Agile?
Agile Manifesto
Agile Alliance
Agile currently is buzzword, a marketing term
The Agile Mindset, Values and Principles
Agile is a umbrella term enclosing different methodologies, tools, techniques, practices and frameworks
Plan-Driven Projects vs. Change-driven Project Projects
Agile is best for complex projects
Agile is about delivering "best possible value" not maximum possible value
Agile is about focusing on business value / outcome, not strictly project plan / output
Agile respects the urgency and importance of priorities conveyed by the customer / user, most prominently by incremental delivery and flexible sequencing
Agile respects the common sense that all requirements can not be known at the outset, particularly when the outcomes are intangible and subject to an evolving understanding.
Agile is about empowering people, treating them as intellectual individuals
Agile is about working closely and constantly (active two side collaboration) with customer throughout (including more than just feedback loops)
Agile is about change, constant change which leads to better value
Agile thinking / approach often requires mind change and cultural shift
Why Agile Works
The 10 Golden Rules for Successful Agile Projects (by Keith Richards)
PRINCE2 Agile
https://www.axelos.com/qualifications/prince2-qualifications/prince2-agile
Management 3.0
https://management30.com/
Beyond Budgeting
http://bbrt.org/
Product Development Flow
The Vanguard Method
https://www.vanguard-method.com/
https://en.wikipedia.org/wiki/The_Vanguard_Method
Radical Management
https://en.wikipedia.org/wiki/Steve_Denning
Theory of Constraints
https://en.wikipedia.org/wiki/Theory_of_constraints
Enterprise Transition Framework (ETF)
http://www.agile42.com/en/agile-transition/etf/
The Mikado Method
http://www.amazon.com/Mikado-Method-Ola-Ellnestam/dp/1617291218
Holocracy
http://www.holacracy.org/
https://en.wikipedia.org/wiki/Holacracy
Evo methodology
Managed Agile Development Framework
hybrid project-level framework
Agile Assessment Tools (a.k.a. Maturity Models)
DSDM/AgilePM Project Health Check Questionnairr (PHCQ)
Evidence Based Management (EBM)
Comparative Agility
Agile and Lean Forrester's assessment framework
Agile Realized Benefits & Improvements (AgileRBI)
Scaled Agile Framework assessments
Agile Adoption Index
Sidky Agile Measurement Index (SAMI)
XP Evaluation Framework (XP:EF)
Agile Coach Health Assessment
TeamHealth Retrospective Assessment
Recipes for Agile Governance in the Enterprise (RAGE)
https://www.cprime.com/rage/
Sociocracy 3.0
http://sociocracy30.org/
Liquid Organization Model
http://p2pfoundation.net/Liquid_Organization_Model
http://www.amazon.com/Liquid-Organization-Routledge-Management-Organizations/dp/0415706629
The Open Organization
https://www.redhat.com/en/explore/the-open-organization-book
The Agile Software Development Lifecycle
Agile Project Management