Natural Resources and Environmental Services
by
carly b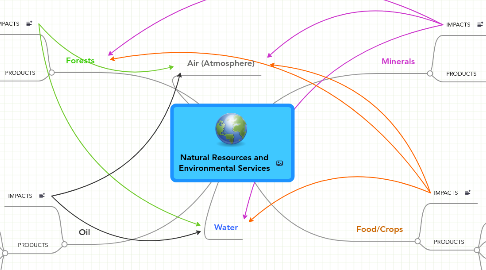 0.0
stars - reviews range from
0
to
5
Natural Resources and Environmental Services
Air (Atmosphere)
Forests
IMPACTS
Deforsation releases carbon and causes climate change. It also means less oxygen for humans and animals to breathe! Plus, deforesation leads to poor water quality by allowing more dirt to wash into rivers and streams.  
PRODUCTS
Water
Oil
IMPACTS
The main use of oil, petrol to fuel cars, is the main cause of climate change through increasing emissions of carbon dioxide. Additionally, the drilling, and transporation, of oil can result in spills which has a devastating effect on the local environment and the water supply.
PRODUCTS
Minerals
IMPACTS
The extraction of minerals from the ground can destroy forests and poison water supply. The production of some minerals into workable materials (e.g. steel, aluminium) also uses large amounts of fresh water and emits pollution into the atmosphere.  Likewise, the production of energy from brown coal is the cause of carbon dioxide emissions in Victoria, helping to cause climate change.
PRODUCTS
Food/Crops
IMPACTS
Increased needs for crops to feeding a growing population or as bio fuel alternatives to petrol mean more and more forests are being cleared. Deforesation also occurs when trees are cleared to make more room for livestock (such as cows and sheep) to feed.   In turn, this livestock also releases methane, a gas that contributes to climate change. Additionally, the growing of crops and livestock requires a lot of fresh water, impacting on the amount available to the local population and remaining forests.
PRODUCTS