MODULE 2: The Search for Global Markets
by GMMSO4 Module2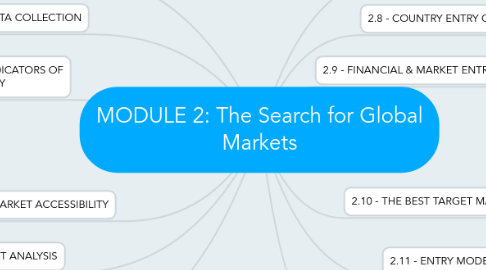 1. 2.12 - CONCLUSION AND RECOMMENDATIONS
1.1. Conclusions and Recommendations from all the above sections of Module Two.
2. 2.10 - THE BEST TARGET MARKET COUNTRY
3. 2.8 - COUNTRY ENTRY CONDITIONS
3.1. In addition to the preliminary screening for market accessibility, in-depth analysis of the conditions of market entry further ascertains the feasibility and cost-effectiveness of entering any one target market country alternative. It also prepares the company for development of the marketing program. It is important to note, however, that countries with the best market entry conditions may not always be the ones with the greatest potential for sales.
4. 2.6 - MARKET & COMPANY SALES POTENTIAL
5. 2.4 - INDICATORS OF MARKET ACCESSIBILITY
5.1. Access to a market is just as important as market potential. Even though they are quick to change, accessibility criteria play an integral part in determining the success of entering foreign markets. Again, the following list is not exhaustive, and is only meant as a guide for the analyst in developing product/market specific criteria
6. 2.2 - MACRO LEVEL DATA COLLECTION
6.1. The GMMSO4 system will automatically generate a list of possible markets based based on the selected macro variables. You may wish to add a new set of countries for the same set of macro level criteria.
7. 2.1 - MACRO LEVEL CRITERIA
7.1. The purpose of selecting criteria is to identify the country with the highest market potential for the company's product/service. The criteria listed are quantifiable and can be measured objectively.
8. 2.3 - MICRO-LEVEL INDICATORS OF MARKET ACCESSIBILITY
8.1. Although all chosen criteria should be product/market specific, micro level variables are specific to the attributes and benifits of the company's principle product (eg, number of food processing palnts, computer sales, number of machine tool manufacturers, agricultural production and products).
9. 2.5 - INDEPTH MARKET ANALYSIS
9.1.  In-depth market analysis and estimates of sales potential in any one country market would be difficult, to say the least, without making contact with those who are more familiar with the Target Market(s). Potential agents and/or distributors, U.S. and foreign governments, associations and organizations all can be helpful in this specialized networking endeavor. Research and sales letters of inquiry can provide in-depth market research and establish relationships that may facilitate bringing the company's product or service to the marketplace.
10. 2.7 - COMPETITIVE ANALYSIS
10.1. Competitor profiles in each target market enable the selection of the best primary target market country for the company and its product, as well as the development of an effective marketing program. While proprietary informaton may be inaccessible, industry/annual reports, competitors clients, channel members and company literature can, in many cases, provide a wealth of competitor information.
11. 2.9 - FINANCIAL & MARKET ENTRY CONDITIONS
12. 2.11 - ENTRY MODE
12.1. Evaluate and select the best entry mode by ranking each one of the selection drivers on a scale of 1-5. A score of 1 = Low. A score of 3 = Medium. A score of 5 = High. The Entry Mode with the highest score will be the one which should be chosen in entering the foreign market.