LPLC - All items off main nodes are pages, all pink are on navigation dropdowns, light pink italics are links within the site. Orange - separate breakout web pages (LPLC Life)
by
Jay Langhurst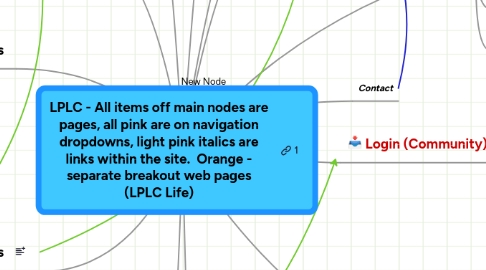 0.0
stars - reviews range from
0
to
5
Staff & Council
Hears indicate own page/PDF link for extended bio, all have photos with 3-4 sentence bio to right of photo
Blog (all)
What is news versus general musings?  Who else updates besides staff?
RSS
Pastor David
Erica
Vicar
Sandy
Lynda
*Ohly
*Chris
*Laurie
*Mel
Church Council
Where are they now? Past Vicars, MIC Students etc...
Contact
LPLC Life
test stuff
Children
Nursery, Play Group, Childcare
Sunday School, Christmas Pageant
VBS
Children's Choir
Children's Activities, Mardi Gras, Halloween, Easter Egg Hunt
Children's Library
Youth
Confirmation
Middle School
High School
College
Lutheran Campus Ministry Partnership
Adults
Women's, Gals' Night Out, Women's Show and Tell, Knit Night
Men's, Guys' Night Out
Bible Studies, Brown Bag, Brady Street
Retreats
Discussion Groups, Brunch Bunch, Ongoing Groups
Sunday Mornings - Adult Education
Seniors
Tuesday Club
Luther Manor Partnership
Community & Service
MICAH
Alice's Garden
Partnership Ministry, Link to All Peoples Church Website, AP Food Pantry
Care for Creation
Reconciling in Christ
Should RIC logo be on About us and/or main page with link to RIC info?
About Us
Pictures looping of various
History
Includes: What is ELCA and What Does it Mean to be Lutheran?, History of our Church w/ help from UWM Archivers, We Are Vibrant, Solar Panels, Handicap Accessible Renovation, Organ
Our Mission
First our mission statement, This will also include our 6 main priorities. Picture: RIC, Families, Altar, Picnic in the Park
Partnerships/Community Connections
Community Connections: RIC, Care for Creation, Campus Ministries, East Side Senior Services, Luther Manor, Mt. Meru Coffee All Peoples?. Outside Groups that Lake Park Supports-Links to: AA, Al Anon, Men's CA, CODA, Cream City Squares,
Pastoral Care/Life Events
Includes: Weddings/Same-Sex Comittment Ceremony, Baptisms, How do I Become a Member? Include counseling, birth, visiting sick etc
Service Times
Location
Directions
Office Hours
Map
News & Events
Calendar
Test mobile me to google calendar sync with dummies
Newsletter
PDF copy, RSS if possible (blog?) OR put all content from newsletter in news blog as it comes in along with additional stuff (and tag newsletter items with #Newsletter) Is this separate blog or topic in same blog?  More frequent updates (not just copying newsletter)
Worship
Photos of worship in different settings (eg park) on front page w/ description of main worship services (eg 8am vs 10am etc) Description of worship
Music
Organ
Choir
Music Ministry Group
Other Services
Taize
Midday Meditation
Baptisms
Midweek (Advent/Lent)
Weddings
Link to PDF of wedding rules/guidelies and costs  
Sunday Worship
Sermon Recordings
This month in Worship
Podcasts, Sermons, Music
Social Scene? Media?
Photo Gallery
Solar slideshow etc
Video
Christmas Tree Timelapse, Annual Mtg Video Slideshow
All Ministries as needed
100th Anniversary
Solar Production (embed)
VBS, Sunday School
Special Service Times (Connected to Liturgical season)
Stewardship Campaign
Podcasts?
Staff Reflections Blog?, Newsletter?
Login (Community)
Good example of overall template except top graphic smaller and less scrolling vertically (rollinghillscommunity.org)
Address & Directions
Parking Info
Service Times
Google Calendar (linked to mac)
Member Log In
Social Media Logo Links
Facebook, Flickr, etc
Facebook
Twitter?
Flickr
Testimonials (on all subpages only)
ELCA LOGO that links, RIC, Milwaukee Synod, MICAH, Care for Creation???
Latest Blog Post Title (and link)
Questions-
LEGEND!!!
Navigation Dropdown member
Update Often
Seasonal Update
baptisms - linking to other parts of the site....
Can we have a when leaving LPLC website redirect page? (warning)
STEWARDSHIP
Time
Talent
Treasure
Pledge Form
Testimonials specific?
Community/Treasure results/impact
New Node