Islam's contribution to Science and Medicine
by
Saaheb Sidana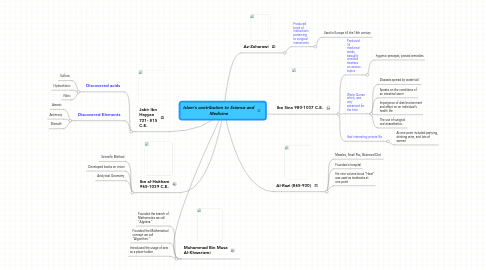 0.0
stars -
0
reviews range from
0
to
5
Islam's contribution to Science and Medicine
This is just a demo map that you can delete right away, if you feel like it...
Ibn al-Haitham 965-1039 C.E.
Scientific Method
Developed books on vision
Analytical Geometry
Jabir Ibn Hayyan 721- 815 C.E.
Discovered acids
Discovered Elements
Muhammad Bin Musa Al-Khwarizmi
Founded the branch of Mathematics we call "Algebra."
Founded the Mathematical concept we call "Algorithim."
Introduced the usage of zero as a place-holder
Ibn Sina 980-1037 C.E.
Produced 16 medicinal works, basically versified treatises on various topics
Wrote Qunan which, was very advanced for the time
Had interesting private life
Al-Razi (865-930)
Measles, Small Pox, Balanced Diet
Founded a hospital
His nine volume book "Hawi" was used as textbooks at one point
Az-Zaharawi
Produced book of instructions pertaining to surigical instruments