The Australian Technologies Curriculum
by Stephanie Emmett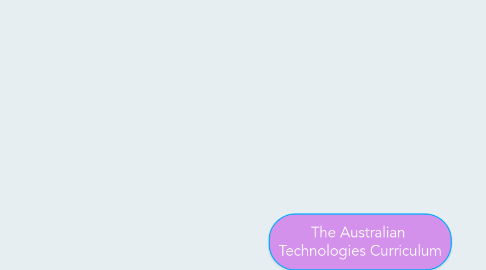 1. Rationale
1.1. The Australian Technologies Curriculum encompasses two related subjects: Design and Technologies and Digital Technologies. The curriculum will ensure that students learn about traditional, contemporary and emerging technologies. Students will develop practical skills and knowledge and apply this to independantly and collaboratively create innovation solutions to current and future problems.
2. Strands
2.1. Knowledge, understanding and skills in each subject are presented through two related strands
2.1.1. Knowledge and Understanding
2.1.1.1. Design and Technologies
2.1.1.1.1. Technologies and Society
2.1.1.1.2. Technologies Context
2.1.1.2. Digital Technologies
2.1.1.2.1. Digital Systems
2.1.1.2.2. Representation of Data
2.1.2. Process and Production Skills
2.1.2.1. Creating Designed Solutions
2.1.2.2. Creating Digital Solutions
2.1.2.2.1. Collecting, Managing and Analysing Data
3. Bands
3.1. Foundation to Year 2
3.1.1. In Design and Technologies and Digital Technologies children create imaginary situations in which they change the meaning of objects and actions as they invent new ideas and engage in futures thinking (for them). They also explore real-world concepts, rules and events as they role-play what is familiar and of interest to them.
3.2. Year 3 to Year 6
3.2.1. In these years, learning in Technologies occurs through integrated curriculum and Technologies subject-specific approaches. Students' activities in the early years develop into an interest in learning technologies thinking, processes and production. Students increasingly recognise the connections between Technologies and other learning areas.
3.3. Year 7 to Year 10
3.3.1. n the Technologies learning area, students use technologies knowledge and understanding; technologies processes and production skills; and systems, design, and/or computational thinking to solve and produce creative solutions to problems, needs or opportunities. They communicate and record their ideas using a range of media and technologies. These specialised problem-solving activities will be sophisticated, acknowledge the complexities of contemporary life and may make connections to related specialised occupations and further study.
4. Cross Curriculum Priorities
4.1. Aboriginal And Torres Strait Islanders history and culture
4.2. Asia and Australians relationship with Asia
4.3. Sustainability
5. Aims
5.1. The Technologies curriculum aims to ensure students: - can investigate, design, plan, manage, create and evaluate solutions - are creative, innovative and enterprising when using traditional, contemporary and emerging technologies, and understand how technologies have developed over time - make informed and ethical decisions about the role, impact and use of technologies in the economy, environment and society for a sustainable future - engage confidently with and responsibly select and manipulate appropriate technologies − materials, data, systems, components, tools and equipment − when designing and creating solutions - critique, analyse and evaluate problems, needs or opportunities to identify and create solutions.