Federalists vs. Anti-federalists
by
Paul Chiro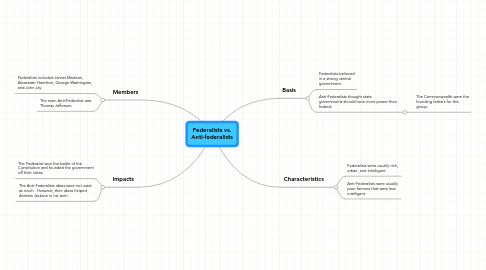 0.0
stars - reviews range from
0
to
5
Federalists vs. Anti-federalists
Basis
Federalists believed in a strong central government.
Anti-Federalists thought state governments should have more power then federal.
Members
Federalists included James Madison, Alexander Hamilton, George Washington, and John Jay.
The main Anti-Federalist was Thomas Jefferson.
Characteristics
Federalists were usually rich, urban, and intelligent.
Anti-Federalists were usually poor farmers that were less intelligent.
Impacts
The Federalist won the battle of the Constitution and founded the government off their ideas.
The Anti-Federalists ideas were not used as much. However, their ideas helped Andrew Jackson in his term.