Energy Resources: How can we avoid energy shortages?
by Aly Lim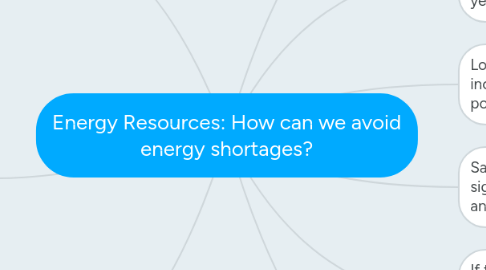 1. The world's largest oil producer might be Saudi Arabia, Iran and Iraq. Russia might also be one of the largest oil producer as it produces more than 10 million barrels a day.
1.1. According to recent numbers from the International Energy Agency and Bank of America, it's another country has taken the lead in global production – the United States
2. In recent years, everyone from Citigroup to Chatham House has suggested Saudi Arabia – the world's biggest oil exporter – could face oil shortages in the next 10 to 15 years.
3. Local energy demand has skyrocketed and could increase by 250 percent by 2028, largely due to a population boom.
3.1. Explore oil alternatives for domestic energy use.
4. Saudi Arabia and the United Arab Emirates reportedly signed an accord to jointly develop renewable energy and clean technology.
4.1. Saudi Arabia has indicated it hopes to become a key market for renewable energy by 2032
5. If the energy crisis happens at any point in the next 15 years, Saudi Arabia currently derives over 45 percent of the country's GDP, 80 percent of its budget revenue and 90 percent of its export earnings from oil – won't be in a position to provide the same level of social welfare that it has historically.
6. Ongoing social tensions involving groups that have felt excluded from the state's policies – i.e. many women, unemployed youth and the Shia minority – will likely resurface.
7. Diversify the Economy
7.1. There had been legitimate efforts to develop the private sector, including telecommunications, entrepreneurship and power generation to reduce the economy's oil dependence.
7.2. Several economic cities, entrepreneurship centers and universities have been set up by the state specifically to cultivate non-oil industries and entrepreneurs.
7.3. In February, a new mineral industrial city in Waad al-Shamal, worth an estimated $9.5 billion, was announced, while in June, it was reported that the government and Riyad Capital will launch a venture capital fund worth $270 million specifically for new technology startups.
7.4. Experienced a five-month high in the growth of its non-oil business activity in June.
7.5. Shift toward a greater emphasis on new industries and entrepreneurship.
8. Create Jobs
8.1. 43 percent of young people with a tertiary education and 34 percent of women are jobless.
8.1.1. A quarter of the population are reportedly living in poverty
8.2. The country was the leader in job creation in the Gulf in 2013, while workforce numbers in the nonoil private sector accelerated this year
8.2.1. The unemployment rate has remained stubbornly high.
8.3. If there is not a direct link between these new industries and employment for these sensitive groups, an oil shortage will lead to even more discontent.
9. Publicize these Policies
9.1. A policy needs more than just state support – it needs to be seen as legitimate by citizens so they will be in a position to take advantage of it.
9.2. Government would need to communicate with unemployed young people and women (and hopefully the Shias) and steer them towards the jobs that are being created in new industries.
9.3. Educate all of its citizens about this shift in policy.
9.4. If Saudi Arabia wants to have any hope of easing itself off its oil dependence, it will need to transform its economy – and it will need all of its citizens' help to pull this off.