Microsoft Technologies
by Rahadian Dustrial Dewandono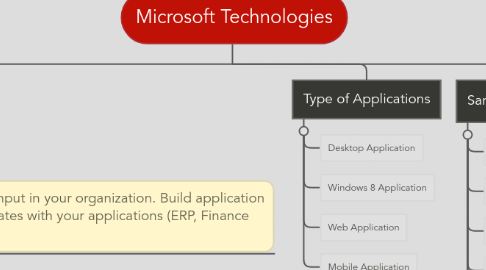 1. Advantages
1.1. Seamless Integration
1.1.1. Avoid double input in your organization. Build application that communicates with your applications (ERP, Finance Module, etc.)
1.2. Cloud Computing
1.2.1. Users can access your applications anywhere and anytime. By the way, no worry about any disasters, data is safe on the cloud.
1.3. Multi-Device Compatibility
1.3.1. Your application will adapt on various devices. It is always user-friendly on website, smartphone, tablets, etc.
1.4. Awesome Flexibility
1.4.1. We build your application from scratch after complete business need analysis. Even in development process, you can modify your requirement (Agile Development)
1.5. Better Security and Performace
1.5.1. The latest Microsoft's technologies and Nalysa's development expertise bring application security and performance to a high level.
1.6. End user at control
1.6.1. Permissions, document tracking, information sharing are activated directly by end user. No action required from IT department.
2. Sample of Products
2.1. Content Management System
2.2. E-Commerce System
2.3. Help-desk Management System
2.4. Human Resource Management System
2.5. Business Intelligence System
2.6. Production and Manufacturing System
2.7. input module: time sheet input, expense sheet, production daily report.. drectly integrated in ERP
3. Type of Applications
3.1. Desktop Application
3.2. Windows 8 Application
3.3. Web Application
3.4. Mobile Application