What do sources of EVIDENCE tell you about SG before 1819?
by Praveen Nair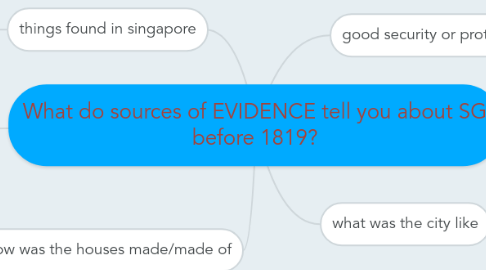 1. good security or protection
1.1. Army
1.2. Police
1.3. How is the housing?
1.4. Transport
2. what was the city like
2.1. was the city full of houses or it was full shops and houses?
2.1.1. how big was the population?
3. How was the houses made/made of
3.1. cow dung
3.2. woods
3.3. bricks
3.4. was the houses small?
3.5. was the houses on land or water?
3.5.1. if the houses were in the land could the land be strong
4. things found in singapore
4.1. collection of gold ornaments and armlets were found in fort canning hill
4.2. coins were found in singapore of the tang and the song dynasty
5. lol