The New Deal
by
K deraps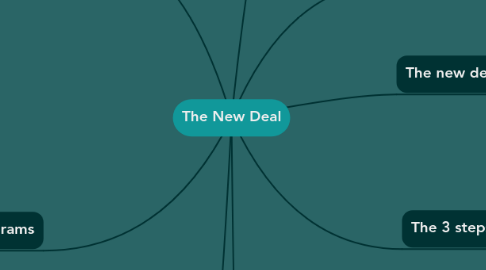 0.0
stars - reviews range from
0
to
5
The New Deal
The name the new deal
FDR wanted the goverment to be involved in economy unlike Hoover
New program by FDR
To fight the depression
Revolution
Goverment functions completly changed
3 steps to the programs
NATIONAL INDUSTRIAL RECOVERY ACT (NIRA) and NATIONAL RECOVERY ADMIN (NRA)
established to end animosity
fair labour codes established
Wages
No child labour
Hours cut
Business people challenged the NRA, claiming it was communist
Forming the LIBERTY LEAGUE, Said the goverment was exceeding its authority, Wanted the supreme court to overturn the NRA and the NIRA
The 3 steps
Step 1
Banking Crisis, Banking Holiday, Where banks were shut down and inspected this made people more confortable so they started investing and depositing money again.
Step 2
Stock Market Reform, Security Exchange Commission, Buying on margin was regulated
Step 3
FDR went off GOLD STANDARD, To put more money in circulation, Causing more problems like, Inflation, Increasing cost of things, lowered value in the $ :(
New programs
TENNESSEE VALLEY AUTHORITY (TVA)
Used for:, Promiting hydroelectric power, Flood control, private industry
AGRUCULTURAL ADJUSTMENT ACT (AAA)
1933 to aid farmers, AAA had farmers cut back on crop production by paying them equivalent SUBSIDIES, Bad side, Food production was down(people starving), Black farmers were hurt and in the end forced to give up farming
Was announced in 1935 unconstitutional, Was fixed and introduced at new legislation
Food Stamp Act of 1939
Made it so people that were poor could get Food.:), Note unempolyment was still a problem and the goverment made temp. programs to help the unemployed
CIVILIAN CONSERVATION CORPS (CCC) 1933
Created jobs for Young men (18-25), No blacks were alowed to enrol, Did road work and flood control jobs like that.
NATIONAL YOUTH ADMIN. (NYA)
Jobs for young in urban areas
FED. EMERGENCY RELIEF ACT (FERA)
Aimed for older workers but still 6 mill unemployed
New node
SOCIAL REFORM ASPECT
1935 turned to Social Welfare - more legislation
National Labour Relations Act (aka Wagner Act)-
legitimized unions and labour tactics
Social Security Act (1935)-
act typifies the WELFARE STATE, Problem: took money out of circulation
1936 - "Soak The Rich" tax
ELECTION OF 1936
FDR won
FDR MORE CHANGES
Wants to reorganize the Supreme Court
Pack the court
From 9 judges to 15(DIDDN'T HAPPEN)
Late 1930's questions came about
ELECTION OF 1940
FDR's 3rd time running
FDR v. Wendell Wilkie
FDR won in 1940 and again in 1944
3rd revolution
Goverment more involved but sill have demorcracy
The new deal helped
Unempolyment
Boost up the econamy
FDR REFORMED AMERICA