Teaching & Learning: Where am I now?
by
Edwina Whearty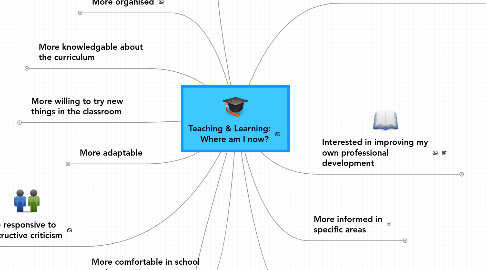 0.0
stars - reviews range from
0
to
5
Teaching & Learning: Where am I now?
More competent teaching in my own subjects.
Although I felt quite capable in both French and Italian back in September, there is a different kind of competancy required when trying to bring that knowledge across to somebody else. At first it was difficult getting back to such a basic level of my subjects. I am beginning to better understand the ability levels and capabilities of my students.
French
Italian
English
More organised
Class Lists
Class Year Plans
Behavioural Charts
Homework
Test Results
Lesson Plans
Evaluations
More professional attitude & tendancy to be stricter.
Throughout the second semester I felt more like a teacher and acted accordingly. I enforced the rules moreso and was stricter than I had been back in September. I was also more engaged on a professional level with students who weren't my own. I was more known in the school to other students outside my classes.
Due to an awareness of school rules & policies and knowing my students better.
More confident in my own abilities
Due to successful classes and classroom ideas, student feedback, DV8 reflection & positive supervisor comments.
More comfortable in school environment
Due to experience, getting to know teachers and students; and helped greatly by the routine of the 3-week block.
More aware of the running of the school
Being more aware in general of the day to day running of the school has allowed me to feel more comfortable there. It is important to know who is in charge of what and how things work in order to get an overall view of the school and my place in it.
School Rules
Staffroom Etiquette
Timetable Breakdown
Additional Roles of teachers
School Policies
More knowledgable about the curriculum
In my own subjects; JC/LC requirements
Transitions from primary to post-primary
New Subjects: SPHE/CSPE
Subjects that were unavailable to me in school: Woodwork/Construction
More informed in specific areas
SEN: Some of my students have special needs such as dyslexia, ADHD and Aspergers Syndrome. However, no problems arose throughout the year and I didn't feel that I had much contact with these students. I feel more aware about SEN but in no way prepared to deal with SEN on a professional basis. I feel that this will eventually come with experience. As for first years, I learned a bit about the Cairdeas Programme and the incoming first years when I was researching the Curriculum Project.
SEN
Needs of incoming 1st Years
Interested in improving my own professional development
Teachers are lovers of learning and should always strive to better themselves in a constantly changing environment. I hope to develop my language skills by continuing my Spanish studies. I am also interested in studying English further with a view to teaching it in the future. ICT skills are essential in todays world and my school is fortunate with excellent facilities. However, I feel that these facilities are under-utilised by some teachers.
Studying English to degree level as I currently have first year English but would like to be able to teach it.
Studying Spanish further as I currently have a certificate in Spanish from NUIM
Brushing up as Gaeilge
Keeping up-to-date regarding ICT
More willing to try new things in the classroom
Less afraid of failure.
More adaptable
Less likely to need strict lesson plans.
More responsive to constructive criticism
As a result of watching two recordings from DV8 and seeing my failings first hand.
Due to numerous supervisions and conversations with supervisors.
After seeing the successes and shortcomings of peers in the DV8