Spring Break 2010
by
Jacsanne 4th Period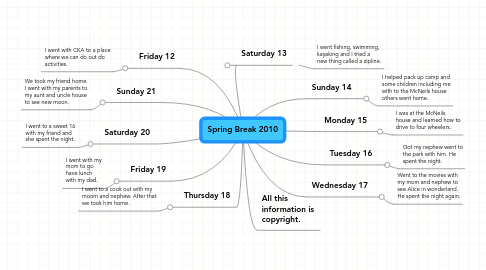 0.0
stars - reviews range from
0
to
5
Spring Break 2010
Friday 12
I went with CKA to a place where we can do out do activities.
Sunday 21
We took my friend home. I went with my parents to my aunt and uncle house to see new moon.
Tuesday 16
Got my nephew went to the park with him. He spent the night.
Wednesday 17
Went to the movies with my mom and nephew to see Alice in wonderland. He spent the night again.
Saturday 13
I went fishing, swimming, kayaking and I tried a new thing called a zipline.
Saturday 20
I went to a sweet 16 with my friend and she spent the night.
Monday 15
I was at the McNeils house and learned how to drive to four wheelers.
Thursday 18
I went to a cook out with my moom and nephew. After that we took him home.
Sunday 14
I helped pack up camp and some children including me with to the McNeils house others went home.
Friday 19
I went with my mom to go have lunch with my dad.
All this information is copyright.