What is Qualitative Research?
by
David Lester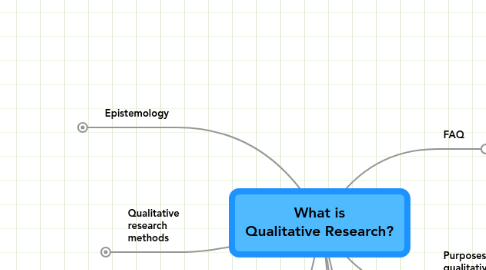 4.7
stars -
3
reviews range from
0
to
5
What is Qualitative Research?
FAQ
What is it?
Where did it come from?
How is it different?
Qualitative research methods
Ethnography
Autoethnography
Case study
Document analysis
Interview study
Narrative inquiry
Phenomenological study
Grounded theory
Purposes of qualitative research
Understand
Interrogate
Deconstruct
Epistemology
Positivism
Post-positivism
Constructionism
When people construct their own meanings based on their interactions with the world, it is called constructionism. This is the epistemology that informs all qualitative research.
Dollar words
subject
objective
generalizability
validity
reliability
truth
fact
reality
bias
About this map
Authors
This map is a collaborative project of the students in Dr. Kakali Bhattacharya's EDPR 8561 Qualitative Methods in Education at the University of Memphis, Spring 2008.
Purpose
This mind map is intended as a tool to promote awareness of qualitative research methods.
This mind map is licensed under a Creative Commons Attribution-Noncommercial-Share Alike 3.0 United States license. Please click the arrow link to the right for details.
A mind map is a diagram used to represent words, ideas, tasks, or other items linked to and arranged radially around a central key word or idea.Click the arrow link to the right for details.
References
Bhattacharya, K. (2007)
Bhattacharya, K. (2007). Introduction to Qualitative Methods: A Student Handbook. Memphis, TN. University of Memphis.
Creswell, J.W. (2007)
Creswell, J.W. (2007). Qualitative Inquiry and Research Design: Choosing Among Five Approaches. Thousand Oaks, CA. Sage Publications.
Crotty, M. (1998)
Crotty, M. (1998). The Foundations of Social Research: Meaning and Perspective in the Research Process. London. Sage Publications.
Organizations
ACR: Association for Qualitative Research
QRCA: Qualitative Research Consultants Association
QRAC: Qualitative Research Advancement Congress