Director of Design and Delivery, Department of Online Education, Adler School of Professional Psychology
by Sarah Fornero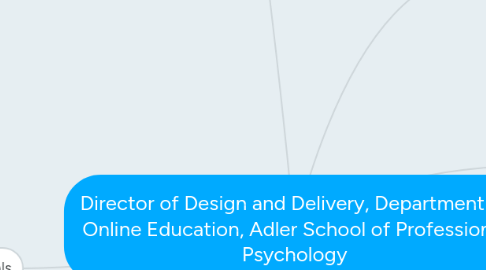 1. Previous Roles
1.1. Middle & High School Mathematics Teacher
1.1.1. Used technology to teach mathematics at both Title I and affluent schools
1.2. Instructional & Multimedia Consultant
1.2.1. LMS Administrator
1.2.2. Educational Technology Consultant
1.2.3. Instructional Designer
1.2.4. Multimedia Developer
1.2.5. Project Manager
1.2.6. Technical Support
1.2.7. Pedagogical Training
2. Previous Education
2.1. B.A. in Education, Secondary Mathematics
2.2. M.A. in Education, Educational Technology
3. Current Limitations
3.1. Cannot advance without a terminal degree
3.2. Difficult to gain respect from faculty members, without a terminal degree
3.3. Lack of formal experience with research
3.4. Majority of knowledge/expertise comes from practical experience and informal research
3.5. Inexperienced in academic writing, particularly research focused writing
4. Current Professional Memberships
4.1. Quality Matters
4.2. SLATE, slategroup.org
4.3. Online Learning Consortium (formerly SLOAN-C)
4.4. Association for Educational Communications and Technology (AECT)
5. Current Responsibilities
5.1. Project Manager
5.2. Online Program Consulation
5.3. Learning Management System Oversight
5.4. Curriculum Developer and Consultant
5.5. Multimedia Development Oversight
5.6. Online Program Logistics
5.7. Online Student and Faculty Training and Support
5.8. Online Course Design Oversight
5.9. Strategic Vision for Online Programming
5.10. Educational Technology Consulting
5.11. Inclusion of Online Students in Campus Activities
6. Area of Interest
6.1. Identifying the components of successful online degree programs - both pedagogical and structural
6.1.1. What elements of online program design and implementation make online students feel like part of the community?
6.1.2. What are the methods and tools that optimize learning in an online environment?
6.1.3. Are there certain types of content presentation and assessment techniques that best engage students?
6.1.3.1. Pros and cons of creating content specifically for an online audience versus trying to re-use content from an in-person setting.
6.1.4. What organizational structures need to be in place for an online degree program to be successful?
7. Future Goals
7.1. To earn a terminal degree in the fields of curriculum and instruction and educational technology
7.1.1. Complete my Ed.D. in Curriculum and Instruction with an emphasis on Educational Technology
7.1.2. Improve academic writing and research skills
7.1.3. Further develop my understanding of the role of educational technology and its history
7.2. To become well versed in best practices with regard to online education and the development of successful online degree programs
7.2.1. Connect with faculty members conducting research in the area of online program development
7.2.2. Participate in professional organizations focused on online education and the development of online degree programs
7.2.3. Continued involvement with the development and review of online degree programs
7.2.4. Review existing literature and research on the development of online degree programs
7.2.5. Conduct or assist with research on the design components which lead to an inclusive and engaging learning environment for online students
7.3. To be prepared to lead an online learning division within an institute of higher education, K-12 school district, or private sector consulting firm
7.3.1. Complete my doctoral degree
7.3.2. Continue to gain experience in the management, development, and improvement of online degree programs
7.3.3. Conduct research in the areas of online program development and student engagement in online degree programs
8. Future Job Aspirations (3 years out)
8.1. Director of Innovative Teaching and Digital Learning
8.1.1. Link to posting
8.1.1.1. http://jobs.educause.edu/jobs/6500538/director-of-innovative-teaching-and-digital-learning
8.1.2. Responsibilities
8.1.2.1. Provide leadership for the development of the University's online strategy and program execution within a framework of teaching and learning innovation
8.1.2.2. Direct the successful development and implementation of the University's online educational strategy
8.1.2.3. Build a system for ongoing quality improvements through course and program evaluation as well as the design and teaching of faculty workshops on different aspects of online course components
8.1.2.4. Assist faculty in identifying, developing, exploring and implementing pedagogically relevant instructional strategies, software, devices and services that support the advancement of teaching, learning and research
8.1.2.5. Evaluate new and emerging technologies and their ability to meet both teaching and learning needs
8.1.2.6. Assess, recommend and implement innovative models of online and blended learning
8.1.2.7. Guide the creation of an online curriculum to ensure an exceptional experience for learning and a supportive environment for faculty teaching in this environment
8.1.2.8. Play a critical role in designing, implementing and analyzing assessment of the pedagogical effectiveness of technology in the curriculum
8.1.2.9. Collaborate with the Vice President for Academic Affairs, deans and faculty to facilitate learning and teaching innovation across University curricula
8.1.2.10. Establish policies and procedures for faculty engagement, processes, needs assessments, product design, development, delivery and evaluation
8.1.2.11. Combine learning theory, design practices and technologies to assist in the creation of effective teaching and learning spaces, both physical and virtual, for the University
8.1.2.12. Supervise instructional designers for online and blended learning, including defining responsibilities, goals and objectives
8.1.3. Qualifications
8.1.3.1. Doctoral degree in higher education, curriculum & instruction, instructional technology or a related field required
8.1.3.2. Five years' experience in the strategic development, management and operation of online programs
8.1.3.3. Experience with current and emerging technology tools and platforms that will transform the delivery of learning products of the future
8.1.3.4. Experience leveraging research in learning science to create the next generation of high-impact learning environments; demonstrated experience creating innovative learning solutions for face-to-face and blended teaching and learning environments
8.1.3.5. Solid understanding of best practices in online education, including delivery models, technology tools, infrastructure, staffing/organization, marketing, work flow, metrics and strategic planning; teaching experience in traditional classroom and technology-mediated settings
8.1.3.6. Experience with traditional and non-traditional students
8.1.3.7. Creativity and expertise in marketing and promoting online instruction programs
8.2. Senior Director of Academic Affairs
8.2.1. Link to description
8.2.1.1. http://www.capitaleducation.com/leadership.php
8.2.2. Responsibilities
8.2.2.1. Lead the development of an engaging academic partnership for CapEd clients through the Virtual Campus platform, course development, faculty development, and the overall student experience
8.2.2.2. Serve as a member of the Business Development team, providing strategic assessments to prospective clients, while also facilitating academic improvement and expansion processes for existing clients
8.2.3. Qualifications of current position holder
8.2.3.1. Served as Executive Vice President at the University of Saint Francis
8.2.3.2. Doctor of Education degree from Ball State University, with a focus in Higher Education, Adult Education, Organizational Development and Leadership