Mind Map Instructions/Example: Use all V.V. Ch.3, L1&3 and follow this example's instructions to create your own.
by Jeremy Rellinger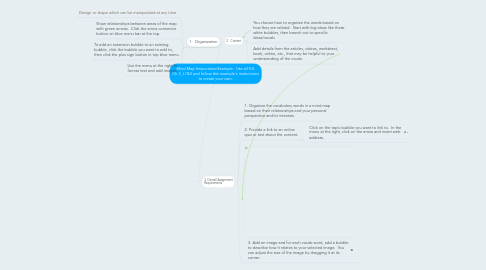 1. 1. Organization
1.1. Design or shape which can be manipulated at any time.
1.2. Show relationships between areas of the map with green arrows. Click the arrow connector button on blue menu bar at the top.
1.3. To add an extension bubble to an existing bubble, click the bubble you want to add to, then click the plus sign button in top blue menu
1.4. Use the menu at the right to format text and add images.
2. 2. Content
2.1. You choose how to organize the words based on how they are related. Start with big ideas like these white bubbles, then branch out to specific ideas/vocab.
2.2. Add details from the articles, videos, worksheet, book, online, etc., that may be helpful to your understanding of the vocab.
3. 3. Overall Assignment Requirements
3.1. 1. Organize the vocabulary words in a mind map based on their relationships and your personal perspective and/or interests
3.2. 2. Provide a link to an online quiz or test about the content.
3.2.1. Click on the topic bubble you want to link to. In the menu at the right, click on the arrow and insert web address.
3.3. 3. Add an image and for each vocab word, add a bubble to describe how it relates to your selected image. You can adjust the size of the image by dragging it at its corner.