Recommended links for thinking atheists
by
Mikey Granule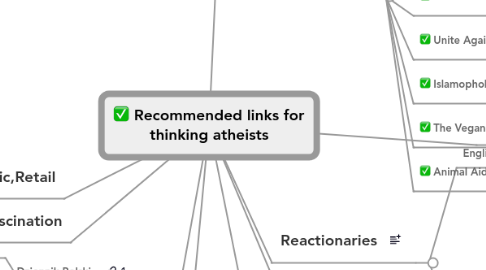 4.0
stars -
5
reviews range from
0
to
5
Recommended links for thinking atheists
Economic and Political Comment
Economic Commentary
Left
News
Progressives
The Progressive Party was the name of a defunct municipal political organisation that operated in several Scottish cities and towns in the 20th century but based around the Unionist Party,...
A Flickr website with varied high quality images of churches world-wide
Co-ordinated news coverage of resistance to the Death Penalty in China, the USA, Taiwan, Japan and other countries.
An opportunity to find out about all things existentialist
An attempt to counterbalance the reactionary, western-supremacist beliefs of the London Atheists Meetup Group.  Bit of an uphill struggle though.
We believe that our most fundamental human rights include the rights to freedom of thought, conscience, religion and cultural expression.  These universal rights must be defended for all groups in society. They are increasingly threatened by legitimacy given to intolerance in the mainstream political and media arenas, by the election of representatives of the racist extreme right to public office and by demonstrations on the streets.  It took hundreds of years of struggles, including international and civil wars, to establish the freedoms of religious and cultural expression and these must be vigorously upheld subject only to the proportionate protection of the human rights and freedoms of others.  These freedoms are essential to the cohesion of our one society with many cultures which is Britain today. To allow these rights to be threatened or attacked for any one group in our society inevitably undermines their universality for the whole of society.  We believe that at this time it is necessary for democrats, of all faiths and none, to come together to defend these fundamental freedoms, which are the cornerstones of liberal and democratic society.
Open to all, a world-wide group.  Based on atheists having the freedom to express their views and disagree with each other.
Unite Against Fascism is a new national campaign with the aim of alerting British society to the rising threat of the extreme right, in particular the British National Party (BNP), gaining an electoral foothold in this country.  We aim to unite the broadest possible spectrum of society to counter this threat.  Until recently this country has not seen the kind of rise of the extreme right that has blighted many countries elsewhere in Europe. However recently we have seen the election of the BNP to the London Assembly and currently this fascist party has 55 councillors across the country.  On 4th June 2009 there will be European and local elections. Given the variety of electoral systems in place for different elections, on its current levels of support there is a real danger that the BNP could get a significant platform in elected institutions.  The BNP can be defeated. The majority of people in this country abhor the BNP. If everyone votes we can stop the BNP. Our campaign will alert people to that fascist threat and urge people to use their vote to stop the BNP.
Daily coverage of anti-islamic attacks, abuse and misrepresentation.
Eat ethically.
Aiding animals
Reactionaries
Not recommended, obviously.  Reactionary means keeping any debate confined to a narrow set of oppressive ideas; not taking a whole view of a thing; promoting divisiveness and exclusivity. Exclusivity seeks to create essentially tribal identities which promote conflict and serve reaction.  Divide and rule is a main motivation.
English Nationalists
Western Supremacists
Middle East religions like Christianity and Islam are particular targets of this type of Western supremacism.  The affinity with this bloc is so apparent that people adopting the atheist label will even adopt pagan solstice and equinox celebrations to affirm their Western identity.
Popular Culture
Materialistic,Retail
Morbid Fascination
Cultural
Artistic
Theatre
Film
Liberals
Not intended to be a complement; not fully Western supremacist, overly focused on teh national.
"Good without God",  but seem to need a concept of God in order to be good without him. Tentatively in the humanist camp.  Its Britishness is being watched for a move to the Reactionary-National path.