Agile Business Analysis (AgileBA®) study guide mind map
by
Mirosław Dąbrowski, COO, Agile&IT Coach, Trainer, Consultant, Product Owner, Entrepreneur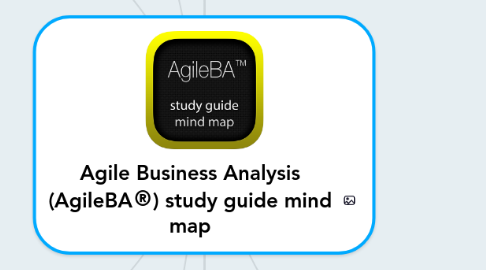 5.0
stars -
10
reviews range from
0
to
5
Agile Business Analysis (AgileBA®) study guide mind map
The release that is deployed may be the final solution, or a subset of the final solution.
Current DSDM® Consortium products family
DSDM® Consortium products history in a nutshell
Phases in the DSDM® (v6) AgilePF® process (6)
Overview
DSDM® provides an iterative, incremental and adaptive framework, with 6 lifecycle phases.
1. Pre-Project
2. Feasibility
3. Foundations
4. Evolutionary Development
5. Deployment
6. Post-Project
AgileBA® - a set of best prctices and guidelines for business analysts (not system analysts) working in Agile projects (especially projects running using DSDM® AgilePF® or AgilePM® methods). AgileBA® provides general (not industry specific e.g. IT or Engineering) agile business analysis gudlines. AgileBA® was created by DSDM® Consortium - www.dsdm.org
Agile Business Analysis (AgileBA™) 1st version was published in 06.2015 (with training and accreditation scheme).
This freeware, non-commercial mind map (aligned with the newest version of AgileBA®) was carefully hand crafted with passion and love for learning and constant improvement as well for promotion the AgileBA® best practices and as a learning tool. (please share, like and give feedback - your feedback and comments are my main motivation for further elaboration. THX!)
Requirements
A requirement may begin life as an idea, a need, or a statement of a problem to be addressed.
The first requirement of the project is its objective, expressed in outline in the Terms of Reference (ToR) and clarified during Feasibility.
The role of the Agile BA is to be the guardian and champion of the requirements.
Every requirement passes through the following stages:
Requirements are often classified into four categories:
User Stories
5 Top Tips for Agile Business Analysts
1. Clarify project objectives at the outset, and check alignment with organisation's strategy
2. Lead prioritisation, always within a timeframe and in light of the objective
3. Assist incremental planning by asking, "What small, useful piece can we deliver early?"
4. Respect the customer (the BA is not the customer, even by proxy!)
5. Draw diagrams! Have a high level blueprint for the project, to enable dependencies to be seen
Techniques
KANO model
Facilitated Workshops
Prototyping
Modelling (category)
MoSCoW
INVEST
Stakeholder Analysis Techniques
Other techniques used in Agile (not defined in AgileBA®, but can be easily implemented)
DSDM® Team roles and responsibilities (13)
Introduction
Role Combinations
Project-level roles
Solution Development Team (SDT) (project can have multiple SDTs)
Supporting Roles
DSDM® (v6) AgilePF® method Principles (8)
Principles are universally applicable statements.
The 8 principles of DSDM® direct the team (not mandates) in the attitude and culture they must take and the mindset they must adopt in order to deliver consistently.
If a team doesn't follow all the principles then they don't get the full benefit.
Treat non-adherence to the principles as a risk.
The 10 Golden Rules for Successful Agile Projects (by Keith Richards)
1 - Focus on the business need
2 - Deliver on time
3 - Collaborate
4 - Never compromise quality
5 - Build incrementally from firm foundation
6 - Develop iteratively
7 - Communicate continuously and clearly
8 - Demonstrate control
Summary & Conclusion
Stakeholders
The key factors in communicating with Stakeholders within an Agile project.
Three types of stakeholders
Power/Interest Grid
Personas
DSDM® Philosophy (1)
DSDM® vs Traditional Project Variables
The DSDM® philosophy
6P Model (a.k.a. DSDM "temple")
Philosophy is achieved when all stakeholders
The DSDM® philosophy is supported by a set of 8 principles that build the mindset and behaviours necessary to bring the philosophy alive.
Common sense
Pragmatism
AgileBA® Official publications
Agile Business Analysis Handbook
Techniquies for understanding the Business Environment
External analysis techniques (2)
Internal analysis techniques (9)
Techniques for measuring the success of implementing change (2)
Requirement prioritization
The Agile Business Case
Types of Business Case
Business Canvas/Lean Canvas
Product Vision Box