How to Bake a Cake
by Anabel Rodriguez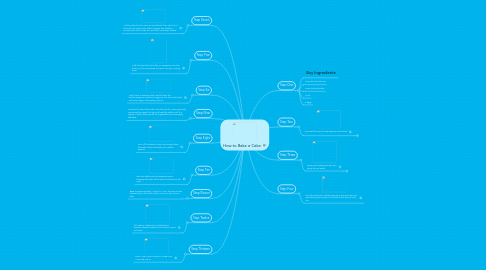 1. Step Seven
1.1. Add one-third of the cake mix and blend, then add 1/2 of the milk and continue to blend. Repeat this addition process until all the cake mix and milk have been added.
2. Step Five
2.1. Melt the two sticks of butter or margarine over low heat or in the microwave and pour into your mixing bowl.
3. Step Six
3.1. With a fork or electric mixer, start to beat the butter/margarine, add each egg one at a time and blend until each egg is thoroughly mixed in.
4. Step Four
4.1. Pour the milk into a measuring cup in the exact amount specified by the recipe on the back of the box of cake mix.
5. Step One
5.1. Buy Ingredients
5.2. >One box of cake mix
5.3. >Two sticks of butter
5.4. >MIlk
5.5. 3 Eggs
6. Step Two
6.1. Pre Heat the oven to 350 degrees Fahrenheit
6.1.1. Materials
6.1.2. Personel
6.1.3. Services
6.1.4. Duration
7. Step Three
7.1. Spray your baking pan with pan spray and set aside.
7.1.1. Dependencies
7.1.2. Milestones
8. Step Nine
8.1. Continue to blend the batter with the electric mixer, gradually increasing the speed to high and beat the batter until it is lighter in color, fluffy and all the ingredients are thoroughly blended.
9. Step Eight
9.1. Turn off the electric mixer and scrape down the sides of the bowl with your rubber spatula.
10. Step Ten
10.1. Pour the batter into the prepared pans, scraping the sides of the bowl, and place in the oven.
11. Step Eleven
11.1. Bake for approximately 1 hour to 1 hour and 20 minutes (depending on the heat of your oven and size of your pan).
12. Step Twelve
12.1. The cake is ready when a toothpick or wooden skewer inserted in the center comes out clean.
13. Step Thirteen
13.1. THE CAKE IS NOW READY TO BE CUT AND SERVED !!!