Agile Foundation (by Agile Consortium)
by
Mirosław Dąbrowski, COO, Agile&IT Coach, Trainer, Consultant, Product Owner, Entrepreneur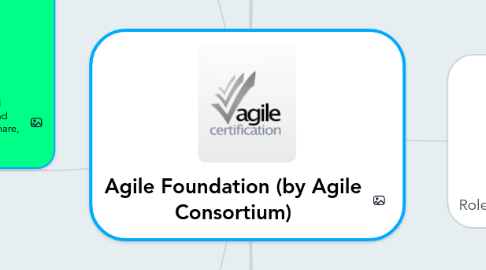 5.0
stars -
9
reviews range from
0
to
5
Agile Foundation (by Agile Consortium)
What is Agile NOT
Quick and dirty
Developers party time
Do what we like
A method
Pre-scriptive
No documentatiton
Part of the solution
Official website
http://www.certifytoinspire.org/
Customer and stakeholder involvement
Measure customer satisfaction
Identify and understand project stakeholders
Setup customer representatives to interact with the development team
Gather requirements using agile requirements techiques:
Handle and prioritize changes by interacting with customers
Engage the right people in decisions
Handling team dynamics
Celebrate small victories
Bring together the right team skills
Trust the team
Encourage individuals to self select tasks
Setup collaborative work environment
Create team working agreements
Preferably co-locate team members
Size the team based on estimated project effort
Prioritisation, planning and delivery
Establish clear purpose and scope (establish the project charter that gives the overall picture of the product and the business value)
Deliver running product at the end of each iteration
Deliver using features based rather than task based approach
Create and maintain release plans and iteration plans
Estimate at least one agile estimation technique
Fix the time, vary the scope
Prioritize requirements by business value and risk
Recognize the need to establish a technical environment that supports iterative and incremental delivery:
Feedback and adaptation
Reflect periodically using a retrospective, introspective, or reflection workshop
Quick daily meetings
Establish feedback - daily and after each iteration
Measure and visibly communicate project velocity, plans, and progress
Converge on accurate requirements by demonstrating features
Adjust requirements and plans continuously throughout the project
Handle issues
Individual leadership style
Be aware of the following leadership behaviors:
Replace negotiation with collaboration
Leadership skills
Control vs facilitating the team
Tasking people vs self organizing
Use basic facilitation skills:
Tailoring
Choose iteration length based on project characteristics
Recognize the need to assess and tailor process to project characteristics
Testing
User participation for checks
Continuous Testing (CT)
Testing against benefits (verification)
Automated testing
This freeware, non-commercial mind map (aligned with the newest version of Agile Foundation qualification by Agile Consortium) was carefully hand crafted with passion and love for learning and constant improvement as well for promotion the Agile philosophy and as a learning tool for candidates wanting to gain Agile Foundation qualification. (please share, like and give feedback - your feedback and comments are my main motivation for further elaboration. THX!)
Agile Foundation is an entry level qualification developed and maintained by Agile Consortium (founded and held by co-author of Agile Manifesto - Arie van Bennekum)
Agile Consortium
Roles and responsibilities
The team is:
Business Sponsor
Business Visionary
Project Manager
Technical Coordinator
Solution Development Team (SDT)
Supporting Roles
Techniques
Yesterday's Weather
Test Driven Development (TDD)
Facilitated workshops
Iterating
Prototyping
MoSCoW
Timeboxing
Modelling
Testing
Lessons learned
The 8 habits of highy effective Agile people (Agilists)
1. Heartbeat
2. Daily's
3. Prototyping
4. Continuous testing
5. Timeboxes / Sprints
6. MoSCoW
7. Visual Management
8. Pair and Refactor
Agile Values (from Agile Manifesto)
Value individuals and interaction
Value working solutions
Value customer collaboration
Value responding to change
The Agile Manifesto and the principles are about interaction
What is Agile?
The rationale for using Agile
Why many projects are percieved as not successful?
It solves communication problems
It avoids a late or delayed ROI
It delivers what the business wants / expects
It delivers what the business needs - based on increasing insight(s)
It avoids over-engineering
It avoids unused features
The success factors of Agile development