Web 2.0 technologies and how can a business use it
by
Tarryn Hertzikowitz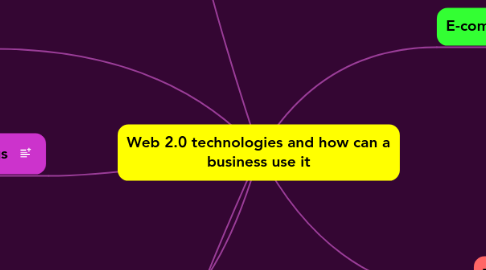 0.0
stars - reviews range from
0
to
5
Web 2.0 technologies and how can a business use it
Wikis
visitors can add, delete or modify content
Business' use them for example for sharing sales information - as they can re-use the information
Blogs
Weblogs are informal yet structured Web sites where registered users can post (publish): stories opinions links to other websites.  
Compnanies
Maintain public blogs, Research customers, Customers can add commnets, present new products and services, Communicate with employees
RSS
To distribute updated corporate information
What is it?
second generation interactive Internet-based services
The technologies and services that distinguish web 2.0 include cloud computing software mashups and widgets blogs RSS wikis
Enables poeple to:
collaborate
Share Informtation
Create new services online
E-commerce
the use of the Internet and the Web to transact business
WHY?
ubiquity
global research
Universal standards
richness
interactivity
information destiny
personalization/customization
Types of E-Commerce
Business-to-consumer
retailing services/products to shoppers
Business-to-business
sales amongst businesses
Consumer-to-consumer
consumers selling directly to consumers
Web based tools for marketing