Web 2.0 technologies and how can a business use it
by
Tarryn Hertzikowitz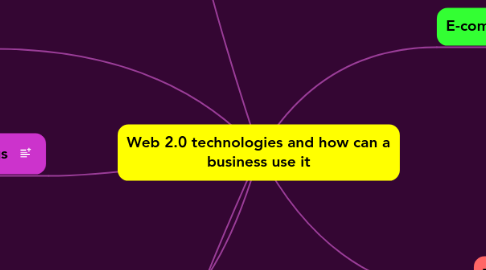 0.0
stars - reviews range from
0
to
5
Web 2.0 technologies and how can a business use it
Wikis
visitors can add, delete or modify content
Blogs
Weblogs are informal yet structured Web sites where registered users can post (publish): stories opinions links to other websites.  
Compnanies
RSS
To distribute updated corporate information
What is it?
second generation interactive Internet-based services
The technologies and services that distinguish web 2.0 include cloud computing software mashups and widgets blogs RSS wikis
Enables poeple to:
E-commerce
the use of the Internet and the Web to transact business
WHY?
Types of E-Commerce
Business-to-consumer
Business-to-business
Consumer-to-consumer
Web based tools for marketing