PARTS OF THE BODY IDIOMS
by
lady vianey tovar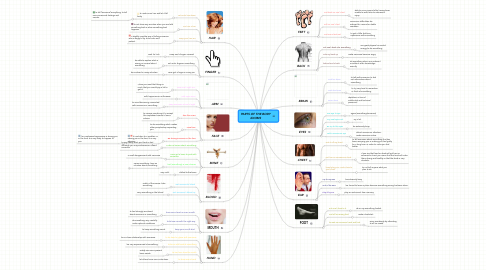 0.0
stars -
0
reviews range from
0
to
5
PARTS OF THE BODY IDIOMS
PARTS OF THE BODY IDIOMS
BRAIN
Pick her brain
to talk with someone to find out information about something
Rack her brain
to try very hard to remember or think of something.
Brain drain
depletion or loss of intellectual and technical personnel
ARM
Give one`s right arm
When you want that thing so much that you would pay a lot to get it,
With open arms
with happiness or enthusiasm
Keep someone at arm`s legth
to avoid becoming connected with someone or something
EAR
Up to my ears
be extremely busy
Out of his ears
be forced to leave a place because something wrong has been done.
Play it by ear
play an instrument from memory
BLOOD
Get someone`s blood
Catch of the nerves, hate something
Get someone`s blood up
carry something in the blood
BONE
Make no bones about something
to say clearly what you think or feel although you may embarrass or offend someone
Have got a bone to pick with someone
a small disagreement with someone
feel (something) in one's bones
sense something, have an intuition about something, Nuevo nodo
chilled to the bone
very cold.
BACK
Put one`s back into something
use great physical or mental energy to do something
Puts my back up
make someone become angry
behind one`s back
do something when one is absent or without one's knowledge, secretly
CHEST
Get it off my chest
to tell someone about something that has been worrying you or making you feel guilty for a long time, in order to make you feel better
put hair on someone's chest
if you say that food or drink will put hair on someone's chest, you mean that the food will make them strong and healthy or that the drink is very alcoholic
keep/play your cards close to your chest
to not tell anyone what you plan to do
EYES
See eye to eye
agree.(something/someone)
Cry one`seyes out
cry a lot.
Be up to the eyes
be extremely busy.
catch someone's eye
attract someone's attention, make someone notice.
FACE
face the music
to receive punishment; to accept the unpleasant results of one's actions
Lose face
to do something which makes other people stop respecting you.
Be staring someone in the face
if a solution to a problem is staring you in the face, it is very obvious., f an unpleasant experience is staring you in the face, it is very likely to happen to you
FINGER
Keep one`s fingers crossed
wish for luck
Put one`s fingeron something
be able to explain what is wrong or unusual about something.
Have got a finger in every pie
be involved in many activities.
HAIR
Let one`s hair down
to undo one's hair and let it fall freely, to tell [someone] everything; to tell one's innermost feelings and secrets.
No turn a hair
to not show any emotion when you are told something bad or when something bad happens
Keep your hair on!
a slightly impolite way of telling someone who is angry to try to be calm and patient
FEET
Get back on one`s feet
able to move around after having been unable to walk tdue to sickness or injury
Fall on one`s feet
Overcome difficulties, be restored to a sound or stable condition
Get one's feet wet
to get a little first-time experience with something
FOOT
Put one`s food in it
do or say something foolish.
Get off on wrong foot
make a bad start.
to wait on someone hand and foot
serve somebody by attending to all his needs.
HAND
to be hand in glove with someone
be in close relationship with someone.
to be an old hand at something
be very experienced at something.
to live from hand to mouth
satisfy one one's present basic needs.
to show one's hand
let others know one's intentions.
MOUTH
have one's heart in one's mouth
to feel strongly emotional about someone or something
hold one's mouth the right way
do something very carefully under optimal conditions
keep your mouth shut
to keep something secret