Crash Course in Wholesaling Lease Options & Case Study
by
Joe McCall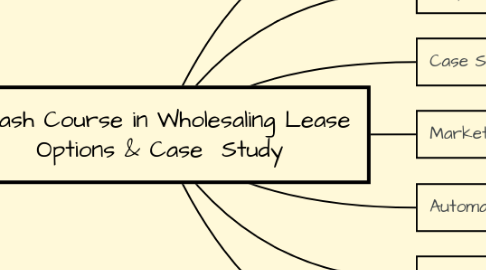 5.0
stars -
5
reviews range from
0
to
5
Crash Course in Wholesaling Lease Options & Case Study
Why Wholesaling Lease Options?
Fast
Easy
Other Reasons
Perfect for beginner
Cash Flow!
Tons of Sellers who can't sell
Tons of Buyers who can't buy
Limited risk - if any. You're out of the deal once a TB is placed
You don't have to make payments
Only nice homes in nice neighborhoods
You truly have the ability to help sellers who have little to no equity. (And there are still a lot of them.)
Less Risk - You're not taking over the deed
You can do this business "virtually" from anywhere in the world
So easy to outsource almost everything
You don't have to see the house or meet the sellers
Non-confrontational. You don't have to negotiate a rock-bottom price.
You don't have to talk to the sellers more than 5 minutes
No mortgage payments - you can do as many of these deals as you want
You don't need a huge marketing budget
All the sellers and buyers you could need already in Craigslist
Great tool in the toolbelt of the experienced investor who is throwing away tons of leads
Steps
Remember to keep things simple! (KISS)
One Page Simplicity, yellow page.png
A-B-C
A = Seller
B = Investor (you're in the middle)
C = Tenant-Buyer
Get property under contract (A-B)
Assign A-B contract to Tenant-Buyer (B-C)
It becomes a contract between A-C
Or, stay in the middle & make MORE MONEY, Cash Now, Cash Flow, Cash Later
Market for Sellers
What to look for?, Semi-Motivated, Very little equity - if any, Median Home Price, Nice Homes in Nice Neighborhoods, 3+ Bedrooms, Good School Districts, You can only sell homes people want to buy!
Where are the Sellers?, Craigslist, For Rent, For Sale By Owner, FSBO Sites, Newspaper Classifieds, Direct To Seller Marketing, Expired Listings, Absentee Owners, Make sure you're only looking in the best zips, Other People, Investors / Rehabers in your city, Other Wholesalers - dead leads, Property Managers, Bird Dogs, Realtors
How to Contact the Sellers?, Emails, Voice Mail, No more cold calls!, Text Message, Combination of the 3 Above, Direct Mail - Postcards and Yellow Letters, Many More
Important Keys, Get a Virtual Assistant to ALL this for you!, Have a marketing plan - know your numbers, Consistency, Track your sellers, Podio, Google Spreadsheet, Don't waste your time with unmotivated sellers, How important is rapport building, really?, "If you want a friend, get a dog", You're in business to make money today!, You are the one asking the questions., Play the role of the "reluctant buyer". They need to sell their house to you. You are not selling a program., You should know in 3-5 minutes if they are ready to do a deal, Don't spend so much time explaining your "rent to own" program to them. Ask them if you can send them an email that explains everything. Tell them you're in a hurry, or you have a bunch of clients to talk to, and it would be easier and more efficient if you just email them some information and they can call you after they review it if they're interested., Send them something in the mail (No one is doing this!), Great questions for sellers, Do you mind if I ask you a few questions about your house to see if it would even be something I would be interested in?, What's your situation?, How quickly do you need to sell?, What would you like to see happen?, What are you going to do if you can't sell the house? Rent it?, I am looking for an investment property that I can lease for a couple years and then buy. That wouldn't work for you, would it?, Sounds like a really nice house. Why haven't you sold it yet? (Or, why would you even want to sell it?), "My mortgage broker & I have a bunch of buyers on the verge of getting a mortgage and are looking for homes in your area.", "What if I could lease your property for 1-2 years, pay the rent on the 1st of very month, take care of all the day-to-day maintenance and repairs, then buy the house at the end of that time without you having to pay any commissions, what would you want to do then?"
Get property under Lease Option contract (A-B)
Go see the house & meet the seller?, Only if you want to, Get the Seller to sign your agreement on-line, Have the Seller send you pictures, Have the Seller show the home
No negotiating needed with sellers. What do they want? You can probably get it for them
Set Option Price & Rent, What does the Owner want to walk away with?, What does the Owner want in monthly rent?, Rent Credits, Option Price = Seller's Asking Price + Option Deposit (Your Profit) + Rent Credits
Make sure the seller is current on their mortgage
Advertise the Home (B-C)
Best Places to Find Buyers, Craigslist, Bandit Signs
Advertise on your website
Postlets / vFlyers
Signs & Flyers in Yard
Send to your Buyer's List
Social Media
If you're not a Realtor, hire one
Importance of a good CHECKLIST
Find a Quality Tenant-Buyer
Look for 3% Option Deposit
You want to make sure they have a realistic chance of getting a mortgage in 1-2 years
Can they afford the house? (MOST IMPORTANT)
Have your mortgage broker review application
Background Check
Collect a deposit to hold the house
Assign Lease Option contract to Tenant-Buyer (A-C)
Remove yourself from future risk
Make sure the seller signs off on new TB & accepts liabilty
Have my attorney do all your paperwork
Have a third party escrow payment service set up (so you can be sure the mortgage is being paid)
Collect the Option Deposit as your Profit (Assignment Fee)
You're out of the deal
You are just assigning your rights to buy the home
Use my Attorney & Escrow Company
Make sure the Tenant-Buyer gets into a good credit repair program and is working with a mortgage broker
follow up
stay involved
Paperwork
Lease Option Agreement with Seller (one page "Short Offer Form")
Assignment Agreement - assigning your contract with the Seller to the Tenant-Buyer
Misc Paperwork, Seller's Disclosure, Lead Based Paint, Pet Agreement, etc
Don't forget the CHECKLIST!
Bob Georgeff, Portland OR
House Pics
Check
Original lead came from contacting seller on their FSBO listing on Craigslist
Seller saved Bob's email from 9 months earlier
Tried selling with a Realtor and then FSBO
Seller is retiring and downsizing. Can't afford two house payments
Bob advertised it on Craigslist - got tons of calls. See ad >>>
Sign in yard "Rent To Own - 3% Moves You In - Phone"
Advertised Option Fee $7,900
Built up his TB list for future deals
Found a lot of people with large down payments
Found a buyer within 7 days
Used our attorney & escrow company to handle all the paperwork and legal issues
Numbers, Seller listed for $294,000, Seller wanted $285,000, That was close to what they owed, Option deposit of $7,900, Did not do rent credits, $285,000 + $7,900 = $292,900 (Option Price)
Joe's Deal - St Louis MO
Nice house
Nice house in suburban STL area
Seller had it listed FSBO. Moved out of town (2 payments)
Numbers, Seller wanted $299,000, Market Value = $300,000 & Rents $1,800, I offered $290,000 & $1,800, $290,000 seller's price + $10,000 assignment fee + $5,000 rent credits = $305,000, I advertised property… - Option Price $305,000 - Rent $1,800/mo - Rent Credits $208/mo for 24 months, Found a great tenant-buyer, assigned my contract to him for $10,000
Look at an example deal on Zillow / Craigslist
Marketing
Market Research
Trulia Heat Maps
Talk to Realtors
What to look for in virtual markets
Market Plan
Talking To Sellers
Making Offers
Automation
Get 2 week free trial at http://joelikesfreedomsoft.com
Phone Systems
CallRail
Vumber
Skype
Answering Services
Answering Service
YellowLetters.com Service
Texting
Freedomsoft
EZTexting
Email Autoresponders
Freedomsoft
MailChimp
Delegation
Special Report: How To Find, Hire, Train VA's
More Detail / In Depth Course
Get The Entire WLO System
On my website for $1497
Today $997
Plus you get all these bonuses...
30 Days Email Coaching
30 Days My VA's Do All Your Marketing
Partner With Me On Deals
3 Ways To Get Course For FREE
1) Partner with me on a deal
2) Don't do a deal in 3 months, I will help you for the next 3 months. If you do what I say, and you still don't do a deal, I will refund your money
3) Send me a video testimonial & a copy of your check
Let me PROVE to you that this is the EASIEST & FASTEST way to make money in real estate today