How a business can use web 2.0 technology to their advantage?
by
Jenine Jooste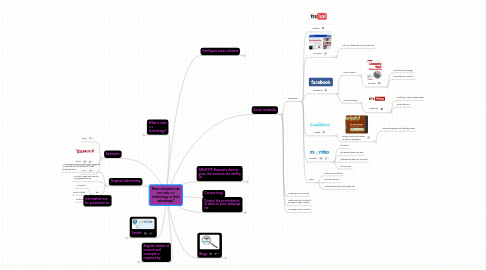 0.0
stars - reviews range from
0
to
5
How a business can use web 2.0 technology to their advantage?
Social networks
Examples:
Creating a community
Helps venture to reach a younger target market.
Managers users content
What is web 2.0 technology?
Helps people to communicate easily.
Spreads information
Stores data
Examples
Develop a brand image.
Promote a product
Online journals
To established a informal relationship with clients.
Venture can test new ideas
Inexpensive
Promote your blog on Redanyway because:
Data can be stored.
Intelligent press releases
Direct-to-custormer press releases
Targeted advertising
A morgage venture ads might appear in articles about real estate or home improvements.
This can target cusumers in a geograpical area
etc.
Can be used to find and search for previous information used. On:
Comparising:
To tradional methods
Regular udates of content and concepts is required by:
Social networking
Advertising
Blogs
Control the presentation of data on your webpage via:
CSS
HTML( or XHTML)
XMLHTTP Requests objects gives the business the abillity to:
Make a webpage
Exchange data asynchnonously with the webserver.
XML
Information can be presented on: