Richard Guest Netbooks
by
Richard Guest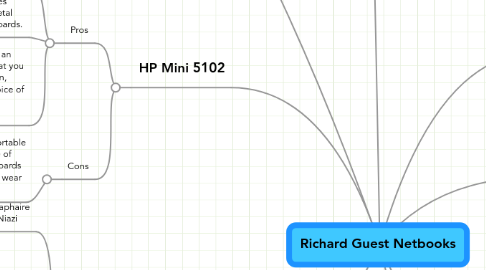 0.0
stars -
0
reviews range from
0
to
5
Richard Guest Netbooks
Processors
Intel's Atom
Cons, The conclusion is that the new platform with the Intel Atom N450 main processor, the GMA 3150 graphics, and the memory controller on a single die delivers a better power efficiency and has minor performance benchmark differences when compared to the previous Atom netbooks with the N270/N280 CPUs and the GMA 950 graphics. - Samantha Noyes http://laptoping.com/intel-atom-n450-reviews-benchmarks.html
Pros, One of the most significant features of the new platform is the integration of memory controller and graphics into the CPU, a first in the industry on x-86 chips. That means two chips (CPU+chipset) instead of the previous three (CPU, chipset, I/O controller hub), a lower TDP, and substantial reductions in cost, overall footprint and power. The netbook platform features a 20 percent improvement in average power and a smaller package size over the previous Atom platform. This translates into smaller and more compact system designs and longer battery life. Because of the integration, the total footprint for the netbook platform has decreased by approximately 60 percent. For entry level desktop PCs, it's a nearly 70 percent reduction in footprint and about 50 percent lower TDP than the previous generation. - Samantha Noyes http://www.intel.com/pressroom/archive/releases/2009/20091221comp_sm.htm, The incredibly small yet surprisingly capable Intel® Atom™ processor lets you put the Internet and basic computing in more places in your home and on the go. Pair a 3G- or 4G-enabled Intel® Atom™ processor-powered device with a broadband service package from your service provider and connect virtually anywhere. - Samantha Noyes http://www.intel.com/consumer/products/processors/atom-family.htm
The conclusion is that the new platform with the Intel Atom N450 main processor, the GMA 3150 graphics, and the memory controller on a single die delivers a better power efficiency and has minor performance benchmark differences when compared to the previous Atom netbooks with the N270/N280 CPUs and the GMA 950 graphics.- Samantha Noyes http://laptoping.com/intel-atom-n450-reviews-benchmarks.html
ARMS
OS
Windows 7
Pros:, 1. Microsoft offers 6 versions of Windows 7. Which are, starter, Home premium, Professional, Ultimate, OEM, and Enterprise. (M.D.C.), http://reviews.cnet.com/windows/microsoft-windows-7-professional/4505-3672_7-33704140.html?tag=txt;pagee, 2. Search results include a snippet and highlights the snippet more clearly. This feature is to appeal people who juggle large numbers of documents and also for people who just want to find files faster. (M.D.C), http://reviews.cnet.com/windows/microsoft-windows-7-professional/4505-3672_7-33704140-2.html?tag=txt;page
Cons:, 1. The search engine is available by default only in the Start Menu and in Windows Explorer, and cannot be easily added to the Taskbar. (M.D.C.), http://reviews.cnet.com/windows/microsoft-windows-7-professional/4505-3672_7-33704140-2.html?tag=txt;page, 2. Bluetooth Driver support no longer comes baked into the operating system. If you need a Bluetooth Driver, you'll either need the installation disc on hand or you'll have to go download it. (M.D.C), http://reviews.cnet.com/windows/microsoft-windows-7-professional/4505-3672_7-33704140-2.html?tag=txt;page
Linux
Pros:, 1., 2.
Cons:, 1., 2.
Chromium
Pros:, 1., 2.
Cons:, 1. The operating system is based on Linux and will run only on specifically designed hardware, 2.
Android
Netbook
Netbook vs iPad Saphaire Nieve and Iashah Niazi
Netbook, Pros, Iashah Niazi Stay productive on the road. From note-taking to loading presentations to Skyping, Pamela Gilchrist, 45, president and CEO of Cincinnati-based PR firm PR-Link, swears by her new Acer Aspire One: "It's much easier for business travel," she says. "[It's] quickly becoming my 'can't do without' item." http://bmighty.informationweek.com/mobile/showArticle.jhtml?articleID=217700496, Cons, Iashah Niazi Many netbooks come sans disc drives or the memory and speed needed to run certain programs. http://bmighty.informationweek.com/mobile/showArticle.jhtml?articleID=217700496
Saphaire Nieves http://weblogs.asp.net/bleroy/archive/2010/04/05/netbook-vs-ipad.aspx http://www.washingtonpost.com/wp-dyn/content/article/2010/04/03/AR2010040303497.html the iPad is similar to the iPhone. The only difference is you will not get the same 3G unless you pay extra and it won't fit in your pocket. The iPad's lack of Adobe Flash support is definitely a problem for browsing. For every site that now offers HTML5-based video as an alternative to Flash, there are still scores of sites containing Flash ads, navigation, and applications that will simply break on the iPad. Aside from that, though, the browsing experience on an iPad is pretty great. You don't have tabs in the browser, but you can open several pages at once and flip between them much as you can. The browser on the iPad is Apple's safari. It is easy to move around and zoom in if you need to. The iPad is really only good to play games with. For page numbers to take notes and keynotes are a great app on the iPad but it cost $10.00 each. The iPad offers no local storage so it is a pain on moving documents around. Many features within Excel and Word (such as macros and drop-down boxes) won't work properly, either. The on-screen keyboard in good for browsing and small reminders but is not well for taking long in-class notes or writing papers.
Saphaire Nieves http://www.washingtonpost.com/wp-dyn/content/article/2010/04/03/AR2010040303497.htmlde Netbook is a PC so it gives you access to any browser you choose. The screen is very small and you can't zoom in or rotate easily like an iPad. You get full support for Flash, and Silverlight. The wording is somewhat hard to read because of the small screen.It can't run high definition movies smoothly, and hard to run flash games. An upside is that it does have a keyboard compared to the iPad and is useful for typing up assignments. Netbooks let you fully run excel, word, and power point. You can do everything you need for business or school. It is small so it is travel size. It is useful for taking on long trips or crowded places (bus, subway, airplane, etc.). Unlike the iPad, you do not have to email documents to yourself, you can easily save it right on to the netbook.
Sharp 10inch
Pros
Sharp is showing off a new 10 inch display that can show 3D pictures and video — no glasses required.
Sharp demonstrates 10 inch 3D display for tablets, netbooks,
Cons
The biggest problem with most 3D displays is that you need to put on a special pair of glasses to use use them.
HP Mini 5102
Pros
HP's line of netbooks designed for business and education customers. These netbooks tend to cost more than their consumer-oriented counterparts. node
they also have premium features including faster hard drives, metal cases, and higher quality keyboards.
NewIn some ways the HP Mini 5102 ups the game by offering an Intel Atom Pine Trail processor and a whole slew of options that you won't find on most netbooks including an optional touchscreen, Broadcom Crystal HD video accelerator, HD display, and a choice of operating systems ranging from SUSE Linux to Windows 7 Professional. node
Cons
Most netbooks are designed to be cheap and portable above all else. As such, most netbooks are made of cheap and have inexpensive and often tiny keyboards that aren't really designed to stand up to a lot of wear and tear. node
Asus Eee PC 1001P
pros
a budget netbook from Asus.
it's cheap, with a starting price of under $300.
it has a matte display and lid
it won't attract fingerprints as easily
it's much easier to use in direct sunlight
cons
it has a lower capacity battery than the Eee PC 1005PE.
The matte display doesn't look as good as a Pixel Qi screen outdoors.
Samsung N210
Pros
fine example of a netbook with an attractive case design
above average keyboard
Cons
isn't the thinnest or lightest netbook around
doesn't have the longest lasting battery, lowest price, or fastest processor
Definition
Netbook is a cheap small laptop which is optimized for wireless Internet and word processing.