Steven Benavidez Smartphones
by Steven Benavidez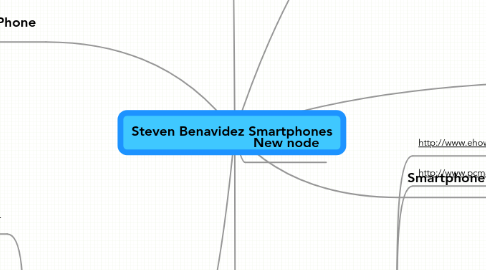 1. Blackberry Storm
1.1. Pros:
1.1.1. The touchscreen is where most of the attention on this phone will be focused, and rightfully so. Unlike similarly stacked competitors (the iPhone and Instinct come to mind) the Storm doesn't just boast a capacitive touch display, it also utilizes a completely unique "click" technology called SurePress which actually allows you to click the screen down like a mouse button
1.1.2. When it comes to sound quality and reception for making actual phone calls, you can't beat this combination. RIM phones generally have loud and clear earpieces and speakerphones, and Verizon -- love it or hate it -- has a great network.
1.2. Cons:
1.2.1. The BlackBerry Storm with the stock update from Verizon is a clunky piece of junk. The sad thing is that BlackBerry releases really good updates that fix almost all of the clunkiness, but Verizon wont make them official. So, if you install one of the unofficial updates from BlackBerry, it removes your Verizon warranty. I could care less about the warranty, so I installed one of the most recent updates from BlackBerry, and my phone now runs smooth.
1.2.2. The browser, which is one of the most important things to me, is clunky in comparison with the iPhone. One of the "non-official" updates made it much better, but its still a clunky piece of crap. You also have to view one web page at a time. The Apple iPhone allows you to open a lot of windows at a time, and it runs way smoother.
2. Processors
2.1. Moorestown
2.1.1. Nearly every smartphone on the market contains an application processor based on processor cores from ARM. (ARM says 2.5 billion chips with ARM cores shipped last year, and the typical phone has at least two.) ARM doesn't make chips itself; instead, it creates intellectual property in the form of designed-for-processor cores, graphics, and memory connections.
2.1.1.1. http://www.pcmag.com/article2/0,2817,2360152,00.asp
2.1.2. Moorestown is the Intel Corporation's Atom processor based system-on-a-chip that's designed for smartphones. Moorestown-ready MeeGo operating system, combining the Intel-backed Moblin and Nokia-backed Maemo mobile Linux operating systems, was announced earlier this week. Steven A. http://www.linuxfordevices.com/c/a/News/OpenPeak-OpenTablet-7/
2.2. SnapDragon
2.3. ARMS
2.3.1. http://www.arm.com/products/processors/index.php
2.3.2. Cortex-A9
2.3.3. Cortex-R4
3. Nexus One
3.1. Pros
3.1.1. The Nexus One only weighs 130 grams and is 11.5 millimeters thick.
3.1.2. Video can be played for well over 3 hours over Wi-Fi from YouTube in H.264 (Baseline 1.2).
3.2. Cons
3.2.1. choice of coloring -- we would have liked to see something a little more consistent as opposed to the two-tone, particularly when the choice of hues is this drab and familiar.
3.2.2. no physical camera key -- had some real trouble with those four dedicated buttons: consistently accidentally tapping them while composing an email or text message, or missing them when tapping a little too low.
4. Smartphone screen
4.1. http://tinyurl.com/yj5f375
5. iPhone
5.1. AT&T
5.1.1. older Edge network, not 3G
5.2. 4.76 oz (135 g)
5.3. Browser: Safari supports landscape mode, multi-touch zoom and pan, and multiple windows.
5.4. Screen size: 3.5" diagonal
5.5. GPS: A-GPS; photo, video geo-tagging
5.6. Keyboard: No
6. Smartphones
6.1. http://www.ehow.com/about_6197600_smartphone-information.html
6.2. http://www.pcmag.com/article2/0,2817,2360152,00.asp
6.3. iPhone vs Droid
6.3.1. http://cell-phones.suite101.com/article.cfm/droid-vs-iphone-verizon-vs-att
6.3.2. http://www.diffen.com/difference/Apple_iPhone_3G_S_vs_Motorola_Droid
6.3.3. Droid
6.3.3.1. Verizon
6.3.3.1.1. Best 3G coverage in America
6.3.3.2. 5.99 oz (170 g)
6.3.3.3. Browser: WebKit-based
6.3.3.4. Screen size: 3.7" diagonal
6.3.3.5. GPS: A-GPS supports LBS / navigation with turn-by-turn driving directions
6.3.3.6. Keyboard: Layout-Qwerty
6.4. iPhone
6.4.1. 3G
6.4.1.1. Released July 11, 2008, the iPhone 3G supports faster 3G data speeds via UMTS with 3.6 Mbps HSDPA, and assisted GPS.
6.4.2. 3GS
6.4.2.1. improved performance, a camera with higher resolution and video capability, voice control,[22] and support for 7.2 Mbps HSDPA downloading (but remains limited to 384 Kbps uploading as Apple has not implemented the HSPA protocol)
6.4.3. Original
6.4.3.1. January 2007 the first generation iPhone was released for sale to At&T users that had two-year contracts with the company.
6.4.3.2. http://en.wikipedia.org/wiki/IPhone
7. Carriers, 3G, 4G
7.1. AT&T
7.1.1. Surf the wireless Internet faster and significantly lower your wait for page loads
7.1.2. Disclaimer: 3G network not available in all areas
7.1.3. Disclaimer: Referenced speeds require an HSDPA 3.6Mbps / HSUPA capable device with Receive Diversity and/or Equalizer. BroadbandConnect speed claims based on our network tests without compression using 3MB data files. 3G devices not enabled with HSUPA support typical upload speeds of 220-320kbps based on our network tests without compression using 500KB data files for upload. Actual throughput speed varies.
7.2. 3G provides accelerated data speeds and simultaneous voice and data capabilities for an amazing wireless voice and data experience. http://www.wireless.att.com/learn/why/technology/3g-umts.jsp?WT.srch=1
7.3. Verizon
7.3.1. Verizon Wireless is also making headway towards getting its 4G network in place, but they're going a different route than Sprint by selecting LTE technology
7.3.2. their 4G LTE network will be roughly similar to its current 3G network in terms of size.
7.3.3. their network has seen peek download speeds of around 50Mbps, which is huge, but expect real-life download speeds of probably around 10Mbps
7.3.3.1. http://www.techreviewsource.com/content/view/411/1/
7.3.4. The question is what else do you use your phone for? If you are into email, web surfing and using applications, network speed might be something to consider. Obviously the importance of speed will depend how much time you spend using these non-phone talking functions. Diana Turner
7.3.4.1. http://www.helium.com/items/1762064-att-v-verizon
7.3.4.2. In this instance, speed is a bonus that AT&T holds over Verizon. Diana Turner
7.3.4.2.1. http://www.helium.com/items/1762064-att-v-verizon
8. New node