Parties live-online?!
by
A agseminare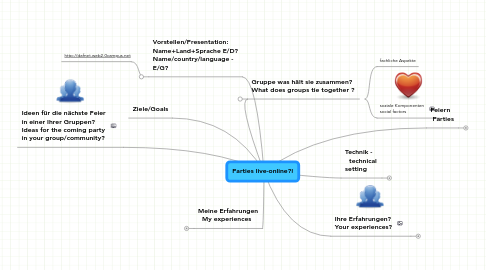 0.0
stars - reviews range from
0
to
5
Parties live-online?!
Gruppe was hält sie zusammen? What does groups tie together ?
fachliche Aspekte
soziale Komponenten social factors
Technik - technical setting
synchron vs. asynchron
2D vs. 3D
Web2.0 tools
Ihre Erfahrungen? Your experiences?
Paare bilden - Sprache beachten - jeweils mit dem/ der unter dem eigenen Namen - und kurz im Privatchat austauschen - 5 min
Form pairs - mind the language - with the person next to your name and exchange in private chat
Einordnen in Matrix
Vorstellen/Presentation: Name+Land+Sprache E/D? Name/country/language - E/G?
http://dafnet.web2.0campus.net
Meine Erfahrungen My experiences
2D-daf-community
3D-Second Life
Feiern Parties
Feste im Jahreskreis
mitgliederbezogene Anlässe:Geburtstag, Hochzeit, Geburt
gruppenbezogene Anlässe: Anfang, Ende, Jahrestag
Ziele/Goals
Ideen für die nächste Feier in einer Ihrer Gruppen? Ideas for the coming party in your group/community?