That Kid Thinks she never seen the sun #lol
by Kimberly Pugmire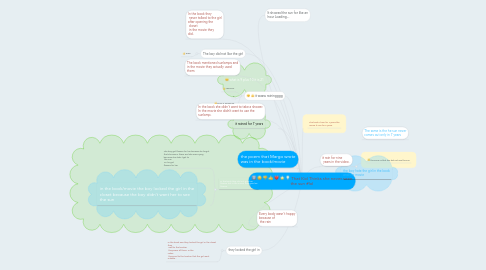 1. they locked the girl in
1.1. in the book wen they locked the girl in the closet they said to the teacher they were all there .in the video they said to the teacher that the girl went outside .
2. The book it rain for 7 years the movie it rain for 9 years
3. in the book they did not give her flowers but in the movie they give her flowers
3.1. The boy got flowers for her because he forgot that she was in there and she was crying because she didn't get to the sun so he got flowers for her
3.2. in the book/movie the boy locked the girl in the closet because the boy didn't want her to see the sun
4. The same is the he sun never comes out only in 7 years
5. it rain for nine years in the video .
5.1. the same is that she did not see the sun
6. the boy hate the girl in the book and the movie
7. what is 9 plus 10 it is 21
8. it rained for 7 years
9. In the book she didn't want to take a shower. In the movie she didn't want to use the sunlamp.
10. it wasss rainingggg
10.1. rainnnnn
10.2. T
10.3. #rain is awesome
11. The book mentioned sunlamps and in the movie they actually used them
12. The boy did not like the girl
12.1. #rain
13. Every body wasn't happy because of the rain
14. In the book they never talked to the girl after opening the closet in the movie they did.
15. It showed the sun for like an hour Loading...
16. the poem that Margo wrote was in the book/movie