Content brainstorm
by Wilco de Kreij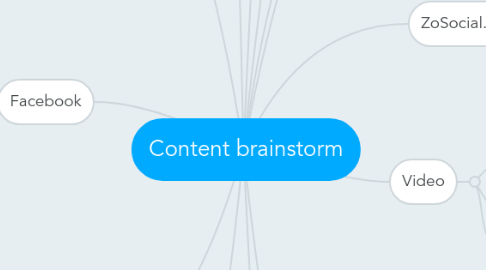 1. Facebook
1.1. Split-test FB Ads for Open Graph Image
1.2. XX FB Ads split-tests you can do today
1.3. How to split-testing your FB Ads without split-testing
1.4. How you can still use FB Custom Audiences... legally!
1.5. The $20 experiment that everyone should do
1.6. XX things you can do to get the highest CTR possible
1.7. Brian Moran Case-Study
1.8. How to create hundreds of ads in minutes
1.9. [Infographic] The XX types of Facebook Ads
1.10. How to get your FB Ads account back after being banned
2. Email marketing
2.1. How one spammer almost killed my business
2.2. XX fool proof headline formulas
2.3. How to keep your email list engaged
2.4. XX ways of personalisation you didn't know existed
3. Ultimate Guide Posts
3.1. XX Split-Test Conversion Optimization Examples
3.2. XX Facebook Advertising Tips & Tricks
3.3. The ultimate guide of creating professional videos.. for less than $50
3.4. Ultimate guide of finding any bloggers' email address
3.5. The Ultimate Guide Of Split-Testing on Facebook
4. Top 10 lists
4.1. Best chrome plugins for marketers
4.2. Best ways / tools to find good content
5. Productiviteit
5.1. How to ignore all the noise
5.2. XX videos that will massively impact your future
5.3. XX productivity hacks every startup CEO should implement
5.4. How I organize Trello & Evernote
5.5. The XX tools that I use // save me X hours a day
5.6. How to plan your day for ultimate productivity
6. Twitter
6.1. XX Creative ways of using Twitter Ads Custom Audiences
6.2. XX things I really LOVE about Twitter Ads (targeting etc)
7. Business General
7.1. How to find the best new business ideas
7.2. How to finish every project?
7.3. How to manage a virtual team
7.4. How to run a business from a phone
7.5. What I learned from selling my first company
7.6. Why the subscription model is the ultimate goal
7.7. How to keep focus while purposely losing focus (multiple projects, but with same end goal)
7.8. How to come up with a business idea if you don't have any
7.9. How to pick a good domain name
7.10. Verhaal van Sydney vertellen (paar keer naar 0).
7.11. 5 creative business ideas that don't exist yet
7.12. Why a 16 year old kid spent €17000 on sunglasses
7.13. Why integrating your business with others might be the best thing you can do
7.14. How we did $XXX,XXX within the 1st week
7.15. The XX core values for massive success
7.16. How I made $XX in 24 hours
7.17. XX things you can do to make more sales from your funnel
8. Conversie
8.1. How to split-test for maximum virality
8.2. The most powerful psychology trigger that will get you sales
8.3. How to sell without selling
9. Video
9.1. A $200 trick to make every video look professional
9.2. Formula of creating a video sales letter
9.3. How to split-test videos
10. Copy writing
10.1. The XX questions you HAVE to ask yourself before selling anything online
11. Overig
11.1. How to make sure bloggers will write about you
11.2. On how many traffic sources should you focus?
11.3. The XX marketing influencers of 2014
11.4. The huge gap between the startup community and marketers
11.5. Free traffic tips
11.6. 5 ways to come up with great domain names
11.7. XX things that everyone should do when starting out
11.8. XX ways to promote your podcast
12. Mindset
12.1. XX Reasons why you're not living your ultimate life
13. ZoSocial.com blog
13.1. Why "losers" are your winners
13.2. How we can still run legal "Like" contests