How do herbs, spices and food help people feel connected to their culture?
by Jess Jones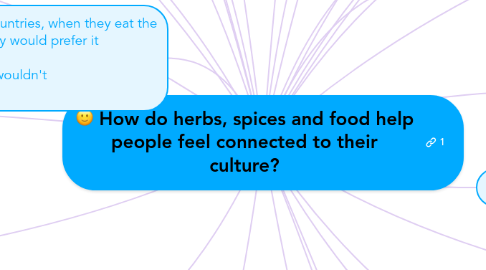 1. Oscar- If i go to another country and every food was so different i would be quiet happy to try different foods
2. New Lynn Night Markets
3. Grandma's house
4. Having food that is familiar
4.1. When I was in Japan, my partner liked to find all the subways because it was familiar - Miss Jones
5. Jabez: For me i would feel a bit more connected if i saw some of my food culture because it makes me feel that they care about my culture as well i would also feel welcomed as well. May: I also agree with Jabez because I would feel more better if there was food that I know that if I didn't like different culture food I would have a choice to choose my culture food.
6. to the Mexican cultra because of what it is made of. It is made with meat,chesse,salads and some times mexiacan spices.
7. As you can see Mexican food is included in mexican food. Of that didn't make sense then you must have no idea what
8. Mardee and finn: Most countries will go to another country ( New Zealand for example) to try to find there cultral food. that they have in their country. Sometimes other people move to multi-cultural countries because they will have their countrys food their. Sometimes.
9. Eg: Some people from certain countries, when they find di
10. Helia and Lulu: saffron makes Iranian food taste more iranian because Iranian Kebabs are topped with saffron and African kebabs are topped with coriander
11. .Sampson. I think the way that foods are related to different cultures are because along time ago someone from a culter
12. Wyatt every country has more than there one culture food
13. avondale markets
14. Wyatt people feels uncomfortable in other country but not there own
15. hi violet
16. Helia and Lulu : the best pavlova is the ones that have kiwi fruit mix through with the mixture and sliced strawberries and kiwi fruit on top.
17. Sarah: Some people from certain countries, when they eat the herbs and spices and they like it they would prefer it more than things overseas because they wouldn't be used to it.
18. Different people make different types of the same food because my aunty makes rice and chicken different to my mum Helia and Lulu
19. Wyatt eg.new zealand has a lot of country culture Chinese,Malaysia and India eg.samosa is a indian food it is parery steffed with hot peas and veges in a triangle shape
20. LUKE-if I go to another country and all the food was different I would be quiet happy because I havent
21. VIOLET you were from mexico and you wanted to add a bit of zazz to your burito so you added some chilly and you didn't want it to be bland
22. VIOLET my grandma is english so she uses a lot of dill
23. Helia and Lulu Iranian food have a iranian taste and that is good because some families might not have gone to Iran like Helia's
24. jade:
25. Mardee and finn mexicans have herbs and spices and all kinds of herbs for example tacos. Tacos are foods that are founded in mexico.
26. Helia and Lulu
27. if I went to niue and I saw some foods from new zealand I would probably eat that but maybe I would try new foods
28. Wyatt each culture have a different connection of food
29. Eg: If I came to New Zealand from a foriegn country, and I didn't see any food from my country, I would be very unconfortable because I can't see anything I'm used too. -Olivia
30. when we did the Hangi earlier in the year it celebrated Maori culture because we used a traditional way of cooking
31. Celebrate diversity
32. Reminds them of home/ family