Apps for Education
by Angie Hall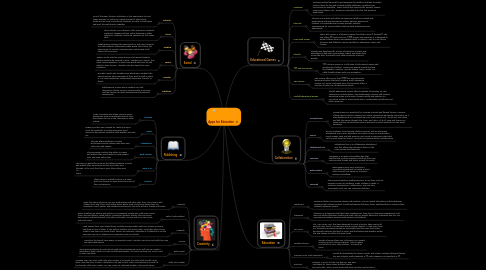 1. Collaboration
1.1. ScreenChomp
1.1.1. ScreenChomp is a great tool for creating tutorials and flipped lessons. Features include touch record to capture your touch interactions and audio instructions on a plain background, or an image from your iPad camera roll. Sketch out your ideas and talk the viewer through the "how" and "why" of it all. Stop and Share your video snack to ScreenChomp.com to generate a simple web link you can paste anywhere.
1.2. Doceri
1.2.1. Doceri combines screencasting, desktop control, and an interactive whiteboard in one app. Educators can create a lesson or presentation, insert images, save and edit projects, and record a screencast video that can be easily saved or shared. Great for promoting student collaboration.
1.3. Whiteboard Lite
1.3.1. Whiteboard Lite is a collaborative whiteboard app that allows two devices to draw on the same canvas simultaneously.
1.4. Toonastic
1.4.1. Toontastic is a creative storytelling app that enables kids to draw, animate, and share their own cartoons with friends and family around the world.
1.5. EduCreations
1.5.1. Educreations turns your iPad into a recordable whiteboard. Creating a great video tutorial is as simple as touching, tapping and talking.
1.6. Nearpod
1.6.1. The Nearpod platform enables teachers to use their iPads to manage content on students' iPads, iPhones or iPods. It combines presentation, collaboration, and real-time assessment tools into one integrated solution.
2. Educational Games
2.1. Tinytapps
2.1.1. Tinytapps makes learning fun and engaging for toddlers and kids through a series of apps for iOS and Android mobile platforms. Complete app curriculums are available. Topics include the human body, animals, shapes, community helpers, etc. Games are intended to be fun and simple to understand.
2.2. PlayKids
2.2.1. PlayKids is a mobile and tablet entertainment platform packed with entertaining and age-appropriate videos, eBooks, games and lullabies. The PlayKids app provides popular, suitable programming for young children that are both entertaining and educational.
2.3. Learn with Homer
2.3.1. Learn with Homer is a literacy program for children ages 3 through 8. The app offers 22 levels and over 1,000 lessons and activities. It is designed to guide children along a personalized path to mastery, with it's rich library of stories and folktales, science and history adventures, songs and rhymes.
2.4. Playrific
2.4.1. Playrific was developed by a team of educators, experts and algorithms to find and curate games, videos and books from across the web, that match each child's interests, age and gender.
2.5. 123 Kids Fun Games
2.5.1. 123 Kids Fun Games is a collection of educational games and activities for children. Games are geared toward learning the alphabet, numbers, sounds, shapes, music, words, etc. Child friendly design with easy navigation.
2.6. ABC Mouse
2.6.1. ABC Mouse offers more than 5,000 fun and interactive learning activities that teach reading, math, beginning science, art, music, and much more, this program offers a one-stop location for all educational needs.
2.7. Starfall Educational Games
2.7.1. Starfall Educational Games offers hundreds of activities on your computer or mobile device. The mathematics, phonics and reading, sing-along songs, and nursery rhymes parallel and enhance it's curriculum products. Enjoy lesson plans, customizable worksheets and other resources.
3. Creativity
3.1. Animoto
3.1.1. Make fun videos wherever you are, with photos and video clips from your Camera Roll. Choose from one of our sleek video styles, add a song, and you're done! Share via Messages, email, Twitter, and Facebook and impress the socks off your friends and family.
3.2. Splice (Video Editor)
3.2.1. Splice together HD photos and videos in an amazingly simple way. Add music tracks from your iPod library, sound effects, transitions, borders, effects (like Ken Burns, slow motion and fast forward), trim video and audio, narrate with your own voice, and much more.
3.3. FlipBook
3.3.1. Load images from your photo library, including images taken with your iPhone's camera, and draw on top of them. If you make a mistake, just touch Undo. Touch Play when you're ready to see how your movie looks. Share your movie by uploading it to flipbook.tv so that everyone can see it. FlipBook puts animation into your hands.
3.4. IMovie
3.4.1. Transform the typical term paper or research project. Students can shoot and edit their own HD video with iMovie
3.5. Book Writer
3.5.1. Innovative application to make books with iPhone/iPad!Book Writer will help you make a magnificent book, which you may read through iBooks. The book creating tool can be used to your own book.
3.6. Little Story Maker
3.6.1. Creating your own story with Little Story Maker is as simple as a click- Click to add a new story- Give the story a name- Add photo, text and record- Voila, your first story is ready to be sharedIn Little Story Maker, you can create an unlimited number of personal stories.
4. Social
4.1. Edmodo
4.1.1. One of the many features of Edmoto is the opportunity to post ideas, pictures, or videos in a similar format of other social media outlets such as Facebook. Students are able to build ideas and work through lessons together.
4.2. Skype
4.2.1. Skype allows you to bring in other educators, students, and guest speakers via free video chatBring in other educators, students, and guest speakers via free video chat..
4.3. KidBlog
4.3.1. KidBlog gives students the opportunity to write and respond to a safe audience (classmates) while giving the teacher the opportunity to monitor communication and writing at all stages of the process.
4.4. Twitter
4.4.1. Twitter can be used to review lessons and remind students what is going to be covered in class. Teachers can "tweet" few quick review questions or post some good Web sites to add depth to their lessons. Students can also tweet their own questions.
4.5. Google+
4.5.1. Google+ works with Google Drive which gives students the opportunity to take ownership of their work as well as share it in a social media type setting with classmates, friends, or family.
4.6. Edublogs
4.6.1. Edublogs are a place where student can hold discussions, allows a way to communicate to parents, and the teacher can post documents and homework assignments.
5. Publishing
5.1. Keynote
5.1.1. Apple's Keynote app allows users to create PowerPoint type presentations directly from their device for use in the classroom or other setting.
5.2. Pages
5.2.1. Pages is another app created by Apple that gives users the capability to create impressive word processor documents, complete with graphics and clip art.
5.3. Videolicious
5.3.1. This app allows students to create professional quality videos using their own video clips and images.
5.4. Book Creator
5.4.1. This app gives students the ability to create and publish their own books by using images, text, and even video clips!
5.5. Write It VS
5.5.1. This app is a game-like program that allows students to write and publish their own stories as they work their way through. In the end, they have a story that is their own to share.
5.6. Scoop.It
5.6.1. Allows users to publish content in a news feed type format for their group to access at their convenience.
6. Education
6.1. TeacherKit
6.1.1. TeacherKit helps you organize classes and students. You can record attendance and log behavior. TeacherKit also allows teachers to add and manage behavior types, enabling them to improve their students' behavior actions.
6.2. ClassDojo
6.2.1. ClassDojo is a classroom tool that helps teachers save time, boost classroom engagement, and improve student behavior quickly and easily, with no painful data entry. ClassDojo also lets you communicate student progress with parents and students.
6.3. Too Noisy
6.3.1. The "Too Noisy App" has been designed to assist a teacher keep control of general noise levels in a classroom using a visual stimulus. As the noise level in a classroom increases beyond an acceptable level the noise level meter dynamically indicates the level of noise, and the background graphics within the app change to reflect the noise levels
6.4. Google Chrome
6.4.1. Google Chrome allows you to browse your Google account on your iPhone and iPad. Pick up where you left off on your other devices, or search by voice.
6.5. Common Core State Standards
6.5.1. Quickly find standards by subject, grade, and subject category (domain/cluster). This app includes Math standards K-12 and Language Arts standards K-12.
6.6. Pinterest
6.6.1. Pinterest is a tool to help you discover and plan. Find ideas for lesson plans, bulletin boards, arts and crafts, and so much more! Find what you like, and just pin it.