Moodle Basics
by
tamara malloff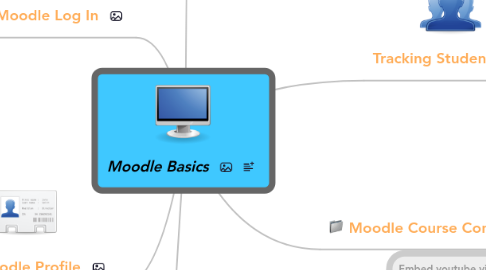 4.0
stars -
1
reviews range from
0
to
5
Moodle Basics
This is just a demo map that you can delete right away, if you feel like it...
Moodle Log In
password: initial and lastname (eg/ pjansen)
New node
type in password
go to "Staff Corner" category
Moodle Mania: Learn to Moodle
Moodle Sandbox: Try Out Moodle
Assess&Differentiation: Learn about Web2.0 Tools for Learning
Edit Moodle Profile
Click on your username in top right corner of Moodle screen
Profile screen appears/ "edit profile" tab
upload a photo of yourself
change your password
click on "advanced" button (bottom right)
change forum tracking & subscriptions
change email display (optional)
Moodle Course Settings
Go to Admin Block (left)
Choose "Settings", Format: weekly or thematic?, Group Mode, Separate Groups? Can create separate enrollment keys, Availability, make up an enrollment key (one time) & share with students
Choose "Groups", Separate Groups? (class sections)
Choose "Files", Make a Folder (eg. docs, pics, Upload a File, documents, pictures, Later, can add a directory for bulk files under "resources" on main page
Moodle Course Content
Top right corner: Turn Editing "On" (toggle) to start editing.
Add Labels (Headings) to each section, Labels can also be used to add pics/videos
Add Resources (things to view/read), Eg/ file directory, keep all downloadables together in a folder, Eg/ link to website or file, Eg/ create a web page (embed video etc)
Add Activities (things to do), Add chats (quick) w set dates & times, Add forums w set dates, simple discussion, open dates, no "blocks" for # of posts, Add quizzes, Add assignments (students can upload), Add wikis, journals, or blogs
Add Web2.0 Tools
Add a blogroll as a block
Add a mindmap or whiteboard
Tracking Students
Click "Participants"
View all forum posts
View all activity reports (last access, etc.)
Click "Gradebook" in Admin Block
Grade assignments/give feedback
Message students individually
Click "Activities" & view student activity by activity type