Michael HallPLN IA (information architecture)
by Michael Hall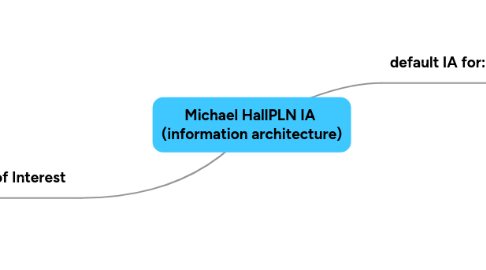 1. default IA for:
1.1. My ideal career (as specific as you can be)
1.1.1. Television Production- Technical Director of Ultimate Fighting Championship -Zuffa, LLC Live Events/Pay-Per-Views
1.1.2. Producer - Film
1.2. I belong to: (enter 5 tools)
1.2.1. LinkedIn
1.2.2. Facebook
1.2.3. Twitter
1.2.4. Myspace
1.2.5. Theta Delta Chi
1.3. How will I get smarter
1.3.1. Field Experience
1.3.2. Marist Education -Degree
1.4. What has been learned
1.4.1. Advanced TV Production Skills- Camera operation, Sound/Boom Operation and Mixing, Lighting techniques, Script Supervising and Continuity, Pre/Post Production, Slating, Key Grip.
1.4.2. Photoshop Basics
1.4.3. Advanced AVID Editing Skills
1.4.4. Sound Editing with Pro Tools/Audacity/Krystal
1.5. Experience in Film
1.5.1. Production Assistant for "Truckload of Faith" -Key Grip, Lighting, and Slating
1.5.2. MCTV - Entertainment & News
1.5.3. "Dead End" - Assistant Director/Assistant Producer/Camera Operator/Sound Operation/Editor/Actor
1.5.4. "Ziggy Phelps and the Spiders from Mars" - Sound Operator, Key Grip
1.5.5. "Power or the People- The Story of Indian Point Powerplant" -Documentary- Director/Camera Operator/Producer/Editor
2. Persons of Interest
2.1. Dana White - President of UFC
2.1.1. Lorenzo Fertita - Executive Producer of UFC
2.1.2. Frank Fertita -Executive Producer of UFC
2.1.3. Craig Borsari- Supervising Producerof UFC
2.1.4. Allan Connal -Technical Producer of UFC
2.1.5. Bruce Connal - Producer of UFC
2.1.6. Bob Feller- In-house Producer
2.1.7. Marin Skific - Tape Producer of UFC
2.2. Lauren Anders Brown - Movie Producer
2.2.1. John Carlino - Director
2.2.2. Elizabeth Neuveu - Assistant Director
2.2.3. Will Zullo - 2nd AD
2.2.4. Matt Wise 2nd 2nd AD
2.2.5. Alyana Ayde - Script Supervisor
2.3. Eric Armstrong - Director of Photography
2.3.1. Chuck Moya - Assistant Cameraman
2.3.2. John Hockenberry - Steady Cam Operator
2.3.3. MAtthew Pebler - Grip and Electric
2.3.4. Breadan Herrera - Sound Operator
2.3.5. Hercules Wang - Grip and Electric
2.4. Jeff Bass - Marist Media Professor
2.5. Paula Willoquet - Marist Film Professor
2.6. Christopher Hall - Producer/Director
2.6.1. Chris Dascoli - Actor
2.6.2. Jerry Bruckheimer - Producer
2.6.2.1. Patt Sandston - Associate Producer
2.6.2.2. Doug Miro - Writer
2.6.2.3. Carlo Bernard - Writer
2.6.2.4. Matt Lopex - Writer
2.6.3. John Turtleaub - Producer
2.6.3.1. Richard Barratta - Production Manager
2.6.3.2. Trevor Waterson - Production Supervisor
2.6.3.3. John DeSimone- Production Coordinator
2.6.4. Barry Waldman - Producer
2.6.5. Mike Stenson - Producer
2.6.6. Norm Golightly - Producer
2.6.7. Todd Gardner - Producer
2.7. Adam McKay - Director/Producer
2.7.1. Jimmy Miller- Producer
2.7.2. Will Farrell - Producer/Actor
2.7.3. Pat Crowley - Producer