Online Creative Toolkit
by
Helen Baxter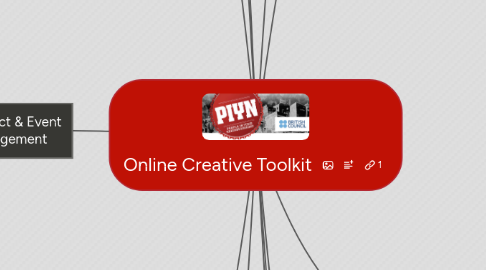 5.0
stars -
25
reviews range from
0
to
5
This presentation is from a workshop developed by Helen Baxter, Mohawk Media for the People in Your Neighbourhood project from the British Council in New Zealand, to enable young urban artists to produce, promote and sell their work. http://piyn.net
Live Streaming
Qik.com
Branding & Identity
What's in a name?
Brands take to time to grow
Grow a large digital footprint
Media monitoring
Social Media & Marketing
Work your social networks
Facebook
RSS
Print On Demand
Music
Writing
Fabric
Art
Designs
3D Objects
Shoes
Indie Artists
Manage their own careers
Own their own copyrights
Creative Commons is a non-profit making organisation founded in 2001, to provide an alternative copyright system for artists in the digital millennium. On the Wikipedia entry on Creative Commons their focus is stated as 'Expansion of "reasonable", flexible copyright'. The Creative Commons Information Flyer (pdf) explains that CC Licenses are not an alternative to copyright. 'They apply on top of copyright, so you can modify your copyright terms to best suit your needs'. The end result is clearly defined terms of how a work is to be used, and a growing pool of legally remixable and mashable content.
CC Databases
Remixes & Mashups
Artists should fear obscurity not piracy
Sell it ...
Think series or universe
Tshirts & Suits
Bootstrappers Bible
Who?
Helen Baxter is MD of Mohawk Media, producer of the g33k show on Kiwi FM, Teaching Fellow at Victoria University and author of the MsBehaviour Files at the Big Idea.
Group Introductions
Project & Event Management
Meetings
Mindmeister
Crowdfunding, Merchandise & Donations
Crowdfunding
Paypal
Derek Sivers is the founder of CD Baby and says in his essay on paying, "Don't forget that there are lots of people like me that like to pay! Appeal to this side of people, giving them a feel-good reason to pay. Tell them what their payment will go to support. Show them how appreciated it is. Some will feel good about paying. It will actually make them happy to give you money. Let them."
Here's a tip from one of Zazzle's most successful sellers. "I earn a 15% commission on every sale for sending customers to Zazzle, even if the customer buys someone else's design. And if they buy mine, I make 35% on every sale."
PIYN Toolkit
Indie Publishing
New Publishing Channels & formats
Podcasts
Online
Mobile
Online Identity
Online ID