The KOI Resource Map
by
Neil Hinrichsen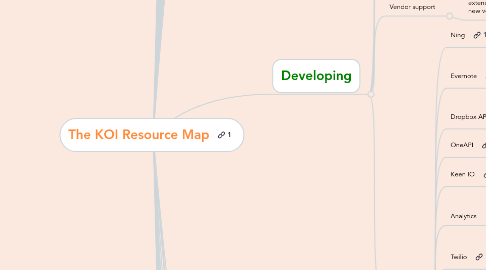 0.0
stars - reviews range from
0
to
5
Research
Koi is a platform for people who are passionate about innovating building businesses and impacting the world
Koi supports entrepreneurs through a range of resources and the Koi community...
Note on books...
Many of the books recommended can be purchased as Kindle ebooks (at half the price!), and read on your PC with the "Kindle for PC program" (there are also Kindle apps for iPhones, iPads and Android)
download Kindle for PC
A Better World... (The Three Worlds)
Book
Jeff van Duzer, Why Business Matters to God (excellent outline of what a business should be)
my sermon on this topic
Ideas
Book
Malcolm Gladwell, The Tipping Point (invaluable for understanding how we REALLY make decisions)
Summary of The Tipping Point - available as a Kindle download
Article (PDF)
Hugh MacLeod, How to be Creative, brilliant!
Spaces
South Africa
National Planning Commission, 9 Challenges facing South Africa (YouTube), Planning for Thandi's Future (YouTube), full Diagnostic Report (PDF)
Transport & Telematics
AutoTech's $150m for transport startups
Internet of Things
AutoDesk's Forge platform for IoT apps
Base of the Pyramid
books, Portfolios of the Poor: How the World's Poor Live on $2 a Day, Poor Economics: A Radical Rethinking of the Way to Fight Global Poverty, Jugaad Innovation: Think Frugal, Be Flexible, Generate Breakthrough Growth by Navi Radjou and Jaideep Prabhu, mixed reviews; haven't read it yet
Cities
South African Cities Network
Future Cape Town, London, Joburg, Lagos
Incubation
also
The Sable Accelerator (in Silicon Valley, for SA companies), article
Non-Profits
DAY ONE
DAY TWO
DAY THREE
Technology
Open IP
The Global Innovation Commons
CSIR
has plenty of great technology waiting to be commercialised
(talk to me if you're interested; I work with them to commercialise their IP)
NASA Startup programme
over 12,000 patents can be licensed from NASA, only available to companies in the USA...
Right Fit to You?
Book
Po Bronson, "What Should I Do With My Life", summary article
Daniel Coyle, The Talent Code, a good guide to the "10,000 hours" !
Marketing
Book
Geoffrey Moore, Crossing the Chasm (and see his other excellent books)
Guy Kawasaki, Selling the Dream (and see his other excellent books)
Sales
Sales management, Miller Heiman, "Large Account Management Process (LAMP)" (and see their other excellent books on selling)
Proposals, there are some great tools out there for preparing proposals; this article covers some of the best ones, Nusii has a great free proposal cheatsheet
Monetisation & Value Chains
Profit migration on value chains
Books, Slywotzky, Profit Migration, Slywotzky & Morrison, The Profit Zone, Slywotzky et al, Profit Patterns
Wardley Value Chains
intro
Simon Wardley's blog
pricing
Books, Lean Pricing
Developing
UI Design
lots of great articles at Smashing Magazine
"Step-by-Step UI Design" - great eBook for $6
"Before & After: How to Design Cool Stuff", superb book on design in general
UI tools
ForeUI
Balsamiq
DesignerVista
Proto.io
Prototypes, just for iPhone apps; runs on Mac
Flint, brilliant for Mac and iOS protyping
more, Article on 25 UI tools
Stacks
StackShare
Mobile development
using WeChat, Good introduction to WeChat's possibilities, Naspers' R50m WeChat fund for mobile startups
the M Lab, (part of The Innovation Hub, see below under Incubation)
The Smashing Magazine "Mobile Book"
Vendor support
extensive vendor support is available for new ventures through Microsoft's BizSpark programme
Platforms
Ning, for social networks, forums
Evernote, for document systems, Online course on the API from CodeAcademy, eg Postach.io
Dropbox API, for sync'ing desktop and mobile apps, eg. YNAB, latest
OneAPI, emerging standard for single sign-on across mobile operators for mobile apps
Keen IO, great backend for accumulating, analysing, reporting on events
Analytics, Flurry (free), Mixpanel (very powerful)
Twilio, for voice and text functionality
Salesforce.com, for enterprise-facing applications, see local Salesforce.com company Agilitude
Bing, for, "Bringing the World's Knowledge to Your Apps" - think access to the massive amounts of knowledge stored in Bing, "Natural and Intuitive User Experiences" - access to OCR, translation and voice control (a' la Apple's Siri), "Awareness of the Physical World" - access to Bing's mapping, directions and immersive geospatial experiences (see for eg their Photosynth work, that merges hundreds of public domain photos into 360% panoramas)
Prss, iPad publishing
(Autos)
(Watches)
(AR)
Funding
Government funding
SPII Grants
The Sable Accelerator (in Silicon Valley, for SA companies), article
Scaling
Deliveries
OnTheDot
Online backups
CrashPlan
CRM's
Highrise, simple, solid, reliable, See here for highlights (tips)
pan-Africa
which countries?
A New Map for Business in Africa
Protection (from the Shark!)
a nonprofit community of companies that includes global giants like Canon, Red Hat, Dropbox and Logitech as well as startups. Member companies agree to provide immunity for one another in case their patents at some point fall into the hands of a troll — providing a real deterrent to frivolous lawsuits
offers products and services on the defensive front
Coworking spaces
Cape Town
"Cape Town Office"
Platform9
Daddy.O
review of cowering spaces in CT
Johannesburg
"5 Creative Co-Working Spaces in Johannesburg"
CoworkingSA
Branding
start here
read my KoiTip "Don't Be Shoemaker's Children"
Logos
"If You Love Your Brand, Set It Free": excellent article on the new way of thinking about branding
Domain names
Checking, InstantDomainSearch for .com/org/net, IWantMyName - best guide to new TLDs, SA Whois for .co.za's, DomainTools for others (or more information), DomainScout - great iPhone app for this, Sedo - for buying/selling domains (research pricing...), Escrow.com - use for escrow when buying a domain
Registering, RegisterDomain for .za domains, IWantMyName for new TLD's, GoDaddy for all others, also do .co.za's now
Websites
Booklet, Seth Godin, Knock Knock (free PDF) - read this BEFORE you plan your site!
Vigo - stunning websites, from SA company (that I mentor!)
Weebly - great tool for doing your own site
Squarespace - like Weebly but, 1. way more more beautiful, 2. more expensive: $8 pm for 20 pages, $16 pm for unlimited pages, 3. steeper learning curve
Images
CanStockPhoto
iStockPhoto, tip: add "isolated" to search, to find images on white background, has become very expensive...
YAY Micro
Stock.XCHNG (free images)
many others...
Email newsletters
MailChimp (free up to 2,000 subscribers & 12,000 emails pm), or get started very easily & quickly with MailChimp's TinyLetter service for free
or if you're severely tech challenged, Mad Mimi (free for up to 100 subscribers)
new changes to ECT ACT 2002, no more OPT-OUT !, fines of R1m !!!
Pitching
Book, Don Peppers, "Life's a Pitch"
Design
great graphics tool
Canva
MORE
great online tool for drawing up your business plan
LivePlan
see also their hundreds of superb free sample business plans
Storytelling
Books
Annette Simmons, The Story Factor: Inspiration, Influence, and Persuasion through the Art of Storytelling
Stephen Denning, The Springboard: How Storytelling Ignites Action in Knowledge-Era Organizations
drawing while presenting, The Back of the Napkin, by Dan Roam (and other books by him)
Podcast
"Sell It With A Story", by Doug Stevenson, (see his book, too)
Newsletter
"Likeable Expert" - an excellent guide to writing short stories for newsletters
(also see his son's newsletter on Copywriting...)
Comics
Comic Life software for Windows/Mac
Staffing
expert Barn mentor on partnerships
Mignon Keyser
slide deck
Startup Culture: 23 Insights From The NetFlix Culture Deck
Managing
book
Kawasaki; Rules For Revolutionaries: The Capitalist Manifesto for Creating and Marketing New Products and Services
slide deck
Startup Culture: 23 Insights From The NetFlix Culture Deck
"free weekly email to help you learn more in the tech startup world"
sign up on the site to get their weekly Digest of useful articles for entrepreneurs
fascinating indepth interviews with successful entrepreneurs (audio & transcript)
Want to attend a free Workshop or Masterclass?
my Idea Workshop helps entrepreneurs to discover and develop a great idea for a better world
it is run regularly across South Africa by Microsoft, the Innovation Hub, mLab, the Bandwidth Barn, Stellenbosch University and other organisations
I also run run regular afternoon Masterclasses in both Cape Town and Gauteng, followed by "Coffee with Neil" sessions where you can discuss your ideas with me and the others
all Koi workshops and masterclasses are sponsored by Koi partners - so you can attend for free
neil@koistrategy.com
...the Author
(I've been an entrepreneur myself - two startups, both acquired)
Copyright (C) 2016 KoiStrategy (Pty) Ltd