What do we know about Hobsonville?
by Ian Nash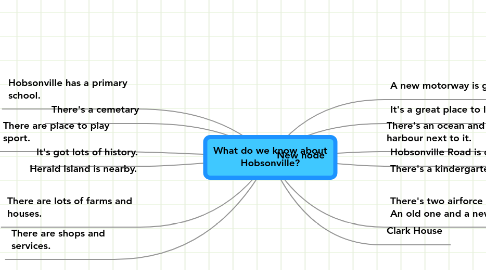 1. A new motorway is going in
1.1. New node
2. Hobsonville has a primary school.
3. Clark House
4. There are shops and services.
5. It's a great place to live.
6. There's a cemetary
7. There's two airforce bases. An old one and a new one.
8. There are lots of farms and houses.
9. Hobsonville Road is old.
10. It's got lots of history.
11. There's a kindergarten.
12. Herald Island is nearby.
13. There's an ocean and harbour next to it.
14. New node
15. There are place to play sport.