Rights Issues - repository owners
by
EdReNe master account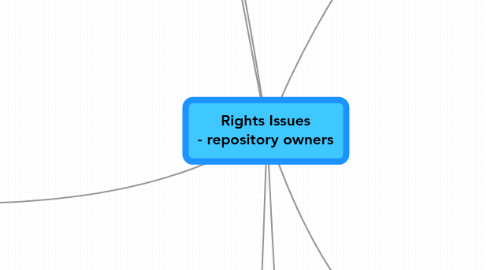 0.0
stars -
0
reviews range from
0
to
5
Rights Issues - repository owners
Licensing schemes
Market place
Adds complexity
Business models
Examples
Is Creative Commons the de facto standard for content licenses?
Training
Monitoring copyright infringements
Could monitoring copyright infringements be part of risks management(item1)?
Who should monitor copyright infringements?
How to prevent copyright infringements?
How to report copyright infringements?
General questions
Developing guidelines to licensors
Principles
Individuals
Organizations
Pre-moderating submitted content before it is published
How to visualize the rights issues concerning digital media? How to get easy access both to copyrighted and liberally licenced resources?
How should copyright restricted media be searchable/visible
Metadata field for right issues must be compulsory!!!
It can lead to wrong copyright metadata -- users who are not competent in copyright issues write whatever there to proceed
different legal situations in different countries
collective metadata
usage statistics. e.g. click count may be valuable for ranking resourses according to popularity.
Digital Rights Management
1) Locking out technology 2) Managment of rights issues with digital technology
Management of Rights
Management of rights issues with digital technology It's more about managing data than managing content.
Relevant policies and initiatives
free governmental
Policy that govts provide access to national resources, eg, museums, galleries, archives, broadcasting. Incentives or mandatory requirement for public funded orgs to produce openly available content. EG RTE broadcaster in Ireland must dedicate some of their budget to "educational resources". Even making their assets openly available may cost money ... to be VLE independent etc. This must be encouraged.
free in community
Eg, European Repositories Project or Wikipedia-type stuff. Leverage existing understanding amongst teachers re the technologies so as to encourage sharing. Don't make it a big learning curve --- make it easy for teachers to share their content.
commercial
Investigate if there is some advantage to commercial publishers if they share some aspects of their content. Can there be a commercial incentive to encourage them to share?
education of content creators
important  to have a simple clear licensing regime with all content creators (teachers, individuals, companies, public sector) understanding what rights they are sharing 
Policy for IP ownership of both metadata + object
Must ensure that recognise the difference between IP of the object and IP of the metaDATA. Not simply metadata relating to keywords, etc, it can be much more sophisticated info about arrangement, learning experience, usage in contexts, etc. Eg, draw a circle on paper, where is the IP in that alone? Not much! But in a particular context it can be hugely valuable in teaching shape of country, perimeter math measurements, etc. 
repositories
Risk Management Strategies
Legal Analysis
Monitoring
Identity of Users
Logging users
Access to databse
Rules for use
Technical Measures to secure content
Response strategies