Rights Issues - repository owners
by
EdReNe master account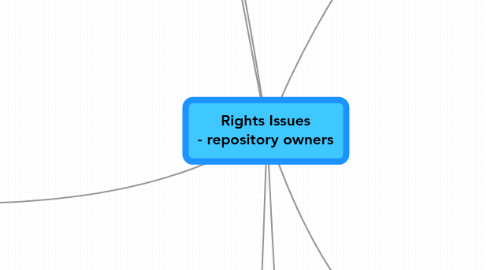 0.0
stars -
0
reviews range from
0
to
5
Rights Issues - repository owners
Licensing schemes
Market place
Metadata, Free, For sale
Products (contents), Granularity, Digital media, Estream, CFU online, Kiosque numérique de l'éducation, Canal numérique des savoirs
Adds complexity
May help users
Business models
B to B, Authentification systems
B to P, Credit card payment
Examples
Contracts, with publishers, with ministerial institutions
Subscriptions, community based
Austria, SBX - SchoolBook Extra, student card
Creative commons, Logos, Anglosaxon rights system
IVINURS
Is Creative Commons the de facto standard for content licenses?
Positive: High Recognition
Negative: Amereocentric
Training
teachers
Monitoring copyright infringements
Could monitoring copyright infringements be part of risks management(item1)?
Who should monitor copyright infringements?
Managers of the repository
Community of users
How to prevent copyright infringements?
Disclaimers and agreements, Teachers' TV, Notice and takedown policies, British Library, JORUM
Automatic tools, Plagiarism scanners (software), Example
Pre-moderating submitted content before it is published
Physical inspection on copyright infringements, Paper copies of digital materials
How to report copyright infringements?
Flagging, YouTube
Reporting form, Example
E-mail, Eample
Mail or fax, Example
General questions
Why monitor copyright infringements?, Increases liability
What are the types of copyright infringements?, Adding copyrighted content, Adding open content with wrong license
What are the problems with monitoring copyright infringements?, Costly, Is it efficient enough?
Developing guidelines to licensors
Principles
Ongoing policy dialogue, Repository owner, Contributors, Users (downloaders)
Infringement of guidelines
Administration, Policy, Who creates these guidelines?, Quality Control Issues, Staff, Legal advice
Individuals
Toolkit, Who owns copyright?, All owned by contributor, Some 3rd party material, link to licence of 3rd party, link to source of 3rd party, Choose criteria for licence, attribution, commercial or not, derivatives permitted or not, Advise appropriate licence, Creative Commons, Other licences, Examples, Jorum, Creative Commons, UK Common Information Environment, AEShareNet, GNU Free Documentation License, LeMill
Organizations
Do you have your own licence?
Can you use a "common" licence?
Pre-moderating submitted content before it is published
How to visualize the rights issues concerning digital media? How to get easy access both to copyrighted and liberally licenced resources?
How should copyright restricted media be searchable/visible
role based, moral issues, legal issues
Metadata field for right issues must be compulsory!!!
It can lead to wrong copyright metadata -- users who are not competent in copyright issues write whatever there to proceed
disclaimers for user provided metadata
who is responsible for uploading illegal media content?
clear right issues by time of upload
filter search by licence
different legal situations in different countries
pre-filter resources by editor
"post filtering" recourses, users 'flag' illegally uploaded content, editors remove illegally uploaded content
collective metadata
usage statistics. e.g. click count may be valuable for ranking resourses according to popularity.
Digital Rights Management
1) Locking out technology 2) Managment of rights issues with digital technology
Management of Rights
Management of rights issues with digital technology It's more about managing data than managing content.
Standards and Interoperability
Metadata, Rights Holder Information, Author, Publisher, Contract Information, Legal Framework, Moral issues? DRM may go beyond copyright, type of content, Different technical formats, granularity, use of content, B2B, B2C, User Profile, B2B, B2C
Technologies for controlling DRM, Locking out Technology, Licence Systems, Features for embedding DRM, making it not erasable, ..., Updating the rights information over time
Examples, JISC
Relevant policies and initiatives
free governmental
Policy that govts provide access to national resources, eg, museums, galleries, archives, broadcasting. Incentives or mandatory requirement for public funded orgs to produce openly available content. EG RTE broadcaster in Ireland must dedicate some of their budget to "educational resources". Even making their assets openly available may cost money ... to be VLE independent etc. This must be encouraged.
Policy to encourage teachers to publish
EU-wide policy for access
National resources
free in community
Eg, European Repositories Project or Wikipedia-type stuff. Leverage existing understanding amongst teachers re the technologies so as to encourage sharing. Don't make it a big learning curve --- make it easy for teachers to share their content.
commercial
Investigate if there is some advantage to commercial publishers if they share some aspects of their content. Can there be a commercial incentive to encourage them to share?
Two-way open access/usage w publishers
education of content creators
important  to have a simple clear licensing regime with all content creators (teachers, individuals, companies, public sector) understanding what rights they are sharing 
arrangement of learning objects
content reuse/restructuring
Policy for IP ownership of both metadata + object
Must ensure that recognise the difference between IP of the object and IP of the metaDATA. Not simply metadata relating to keywords, etc, it can be much more sophisticated info about arrangement, learning experience, usage in contexts, etc. Eg, draw a circle on paper, where is the IP in that alone? Not much! But in a particular context it can be hugely valuable in teaching shape of country, perimeter math measurements, etc. 
repositories
repository is part of VLE
repository is VLE independent
Risk Management Strategies
Legal Analysis
Copyright
Data Protection/Privacy
Database Directive
Jurisdiction
Criminal Law
Content Provider Liability
Monitoring
Spam
Abuse
Content
Identity of Users
Define uploader
Define downloader
Identity theft
Quality Control
Logging users
Control v Privacy
Access to databse
Rules for use
Uploader/Publisher
Downloader
Re-use & Remix
Citation Recommendations
Technical Measures to secure content
Watermarks
DRM
Digital Signatures
Response strategies
Legal, Legal Umbrella Protection by the ministry for teachers, Legal waivers
Administrative
Technical