How my networks provide me with information and support; how I access different people and technologies digitally.
by Jeannie Frazier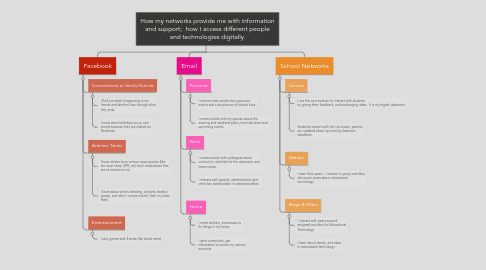 1. Email
1.1. Personal
1.1.1. I receive mass emails that announce events and cute pictures of friends lives.
1.1.2. I communicate with my spouse about the evening and weekend plans, meal decisions and upcoming events.
1.2. Work
1.2.1. I communicate with colleagues about curriculum, activities for the classroom and lesson plans.
1.2.2. I interact with parents, administration and other key stakeholders in classroom affairs.
1.3. Home
1.3.1. I email workers, businesses to fix things in my home.
1.3.2. I send complaints, get information to access my various accounts.
2. Facebook
2.1. Connections to family/friends
2.1.1. I find out what's happening in my friends and families lives through what they post.
2.1.2. I know when birthdays occur, and events because they are shared via Facebook.
2.2. Articles/ News
2.2.1. I have articles from various news sources (like the local news, NPR, etc) and I read stories that are of interest to me.
2.2.2. I learn about what's trending, celebrity deaths/ gossip, and other 'current events' from my news feed.
2.3. Entertainment
2.3.1. I play games with friends (like battle tetris)
3. School Networks
3.1. Canvas
3.1.1. I use this as a medium to interact with students by giving them feedback, and exchanging ideas. It is my digital classroom.
3.1.2. Students interact with the curriculum; parents are updated about up coming classroom deadlines.
3.2. Walden
3.2.1. I learn from peers. I interact in group activities, discussion posts about educational technology.
3.3. Blogs & Wikis
3.3.1. I interact with peers around assigned activities for Educational Technology.
3.3.2. I learn about trends, and ideas in educational technology.