Perfect World client Structure
by
robb ie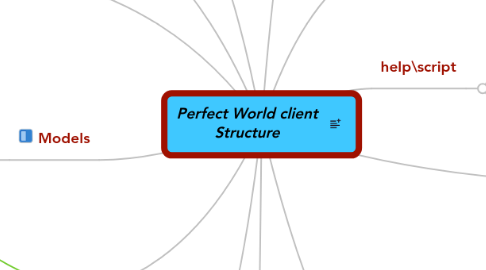 0.0
stars -
0
reviews range from
0
to
5
Perfect World client Structure
this map displays all the files in the .pcks and how they are connected   difficulty level: hard
Configs
List of animation names
open with notepad
censored words
open with notepad
item descriptions + name colour
open with wordpad
debugg consol commands
Login screen message page link
open with wordpad
camera point cords on loading screen
open with wordpad
many files for error messages
open with wordpad
Dynamicobjects.data
Objects in npcgen.data: doors for bosses in dungeons etc.
instance.txt
defines which worldtags activate which maps clientside. open with notepad
actions_player.txt
Text Encoding: GBK This file contains a list of players level. Each level has notes, which emotion/action becomes available at this level
actions_npc.txt
Text Encoding: GBK A list of action names for Monsters and other NPC's
Surfaces
other general menu images
.jpg login screens
logo.dds
server logo
"百宝阁" folder
"图标" folder
"iconset" folder
Models
<Path to object>
GFX
"models" folder
"sgc" folder
"skillattack" folder
<any folder containing .gfx files>
"textures" folder
Facedata
"变形丸" folder
"时装头饰" folder
Map folder
<map name>
Interfaces
script
each menu has
Litmodels
<map name>
buildings
.dds files
textures on buildings. (skin)
trees
.cfg files
lists of trees
<path to any tree>
SFX
.wav files
ingame sound effects
help\script
list.txt
contains a list of every help file in the directory. open with notepad.
.script files
is used for the tutorial help messages when u first create your character. open with notepad. edit the lines starting with "define" to change the help text.