Digital Tools and Effective Strategies for Engaging Adult Learners
by Nathaniel Manley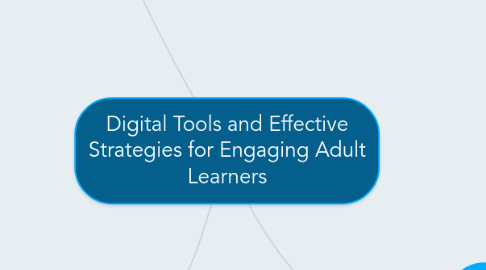 1. Importance of Digital Learning in Today's World
1.1. Information and Communications Technologies (ICT) play a huge role in our modern age. It plays a large part of every aspect of our social life. Such as: workplace, education, public services, economy, entertainment, and culture.
1.2. Computer literacy is an important skill for our generations educational system. Educational policies in most developed countries have mentioned clear statements about integrating ICT in everyday education in order to educate the populous about the knowledge and skills needed to participate in the our current educational systems. ICT is also considered a large participant for widening adults' participation in learning.
1.3. Improving adult digital educational levels is almost required in the sense that it closes the gap in the digital divide that most adults deal with nowadays. It also confronts the issues of exclusion that comes with the increasing importance of ICT activities in modern everyday life.
1.4. In the last decade, a number of studies have studied several different groups of people regarding their attitudes toward computers. People such as students, teachers, adults, etc. Most of the studies have revealed four common emotions: anxiety, fear or caution, lack of confidence, and the doubt about the usefulness of ICT use in their life.
2. Effective Learning for Adults
2.1. Adult learning specialist are dedicated to teaching today's adults. There is a science dedicated to the learning of adults known as Andragogy. It is a low priority focus point in today's science/studies which is an issue because the education of adults is a very important part of all adults lives.
2.2. The theory of andragogy was developed long before the thought of learning styles became popular. Once learners and educators became aware of their learning styles, the motivation and effectiveness of learning greatly increased. There is a model known as Andragogy in Practice and it illustrates phenomena of adult learning styles.
2.3. The rapid development in technology and the growth of non-traditional students have made the use of computers a primary way for people to learn. In fact, computer-based instruction (CBI) has quickly become one of the most commonly used methods of learners to educate themselves. Unfortunately, this method has not focused on the adult learners of our time. A model was developed specifically to target the learning style and effectiveness for adult learners,
3. Effectiveness of a Classroom
3.1. Classes are the most basic organizational unit of adult education programs in the United States. An understanding of what happens in adult literacy education classrooms is critical for policymakers, practitioners, and researchers alike to better understand how to be the most effective when it comes to teaching adults.
3.2. When policy is made because of a lack of basic understanding of classroom behavior, it leads to ill-informed policies that are impractical, ineffective, and even damaging. Although most program administrators may have a basic understanding of what happens in their own classrooms, and teachers are obviously familiar with their own classes, they do not necessarily understand what happens in other programs.
3.3. This lack of exposure to other approaches limits adult educators' abilities to know about, and how to use alternative means to improve practice. Researchers must have a thorough understanding of classroom teaching and learning if they are to be able to ask relevant research questions.