Market 208 S.W.O.T
by
Jeremy Erickson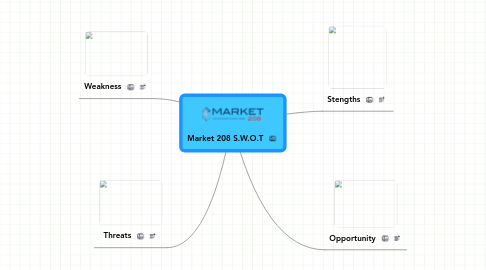 0.0
stars - reviews range from
0
to
5
Market 208 S.W.O.T
Stengths
Online marketing is becoming more and more popular, and Market 208 has positioned itself in understanding how valuable marketing products online has become.  Most people by now have figured out that it's important to be online, and involved in Social Media.   Some companies are resisting, and are not doing a very good job at it.  Market 208 has the ability to facilitate the platforms of social media by  providing above average content that keeps people engaged. I don't have employees, I do it all myself, and that allows me a lot of flexibility.
Weakness
Market 208 is small, and I am the only one providing these services. I have a limited time to give, and not much time to research because school and other activities with kids.  Market 208 must spend more time in client development, and marketing itself.  Also it must spend time learning to technology to stay ahead of the curve.   If I am not available, the work doesn't get done.  To grow, and have more customers, Market 208 must be available for more hours of the day.
Opportunity
Most people are understanding how important it is for them to have there company involved in online marketing and social media.  Lots of people don't want to figure it out, they just want to hire someone to do it for them.  There is a big opportunity for a small organization like Market 208 to step in and provide a service for these types of companies.
Threats
Many Companies are already catching on to some of this type of marketing, and have hired people to do it full time.  Some small companies have figured out how to do it themselves.  Market 208 is very vulnerable because the rapid change that happens in this type of marketing.  Adadability, and flexibility is a must.  Market 208 is vulnerable to becoming obsolete very easily.