Dustin Atchley Biography Mindmap
by Dustin Atchley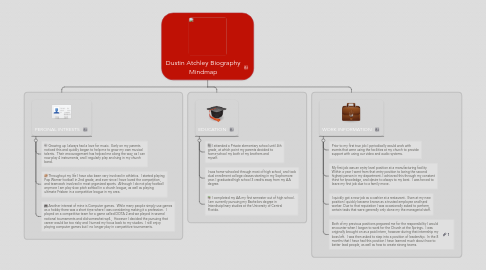 1. EDUCATION
1.1. I attended a Private elementary school until 4th grade, at which point my parents decided to home-school my both of my brothers and myself.
1.2. I was home-schooled through most of high school, and took dual enrollment college classes starting in my Sophomore year. I graduated high school 3 credits away from my AA degree.
1.3. I completed my AA my first semester out of high school. I am currently pursuing my Bachelors degree in Interdisciplinary studies at the University of Central Florida.
2. WORK INFORMATION
2.1. Prior to my first true job I periodically would work with events that were using the facilities at my church to provide support with using our video and audio systems.
2.2. My first job was an entry level position at a manufacturing facility. Within a year I went from that entry position to being the second highest person in my department. I achieved this through my constant thirst for knowledge, and desire to always to my best. I was forced to leave my first job due to a family move.
2.3. I quickly got a new job as a cashier at a restaurant. Even at my new position I quickly became known as a trusted employee and hard worker. Due to that reputation I was occasionally asked to perform certain tasks that were generally only done my the managerial staff.
2.4. Both of my previous positions prepared me for the responsibility I would encounter when I began to work for the Church at the Springs. I was originally brought on as a paid intern, however during that internship my boss left. I was then asked to step into a position of leadership. In the 8 months that I have had this position I have learned much about how to better lead people, as well as how to create strong teams.
3. PERONAL INTRESTS
3.1. Growing up I always had a love for music. Early on my parents noticed this and quickly began to help me to grow my own musical talents. Their encouragement has helped me along the way, as I can now play 4 instruments, and I regularly play and sing in my church band.
3.2. Throughout my life I have also been very involved in athletics. I started playing Pop Warner football in 2nd grade, and ever since I have loved the competition, and teamwork involved in most organized sports. Although I do not play football anymore I am play slow pitch softball in a church league, as well as playing ultimate Frisbee in a competitive league in my area.
3.3. Another interest of mine is Computer games. While many people simply use games as a hobby there was a short time where I was considering making it a profession. I played on a competitive team for a game called DOTA 2 and we played in several national tournaments and did somewhat well., However I decided the pursuing that career would be too risky and I turned my focus back to my studies. I still enjoy playing computer games but I no longer play in competitive tournaments.