Brooklyn Stevens Mind Map
by Brooklyn Stevens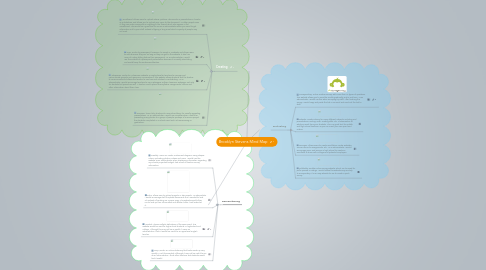 1. Creating
1.1. Voicethread -allows users to upload videos, pictures, documents or presentations. It works as a slideshow, and allows you to upload your voice to the document. As other people view it, they can make comments on anything in the thread, which also appear in the voicethread. This would be a great tool to use as an administrator when you need to get information out to your staff, instead of typing a long email which majority of people may not read.
1.2. Prezi- similar to powerpoint, however it is saved in a website and allows users to edit wherever they are, as long as they can get to the website. It also has more of a story-telling feature than powerpoint. As an administrator I would use this instead of a powerpoint presentation because it is visually stimulating and would keep the audiences attention.
1.3. Wikispaces- similar to a classroom website, a single place for teachers to manage and communicate projects and resources, conversations. This website allows students and the teacher to communicate and allows the teacher to see how each student is contributing. As an administrator I would encourage teachers to use a wikispace as their classroom webpage, not only for students but parents as well. A teacher could upload their syllabus, assignments, rubrics and other information about their class.
1.4. Picsviewr- turns Flickr photos into more stimulating, for visually appealing presentations. As an administrator I would use Picsviewr when I would be presenting many photos to a group of people, perhaps of a service project the students completed or a school event such as homecoming or graduation.
2. Evaluating
2.1. Surveymonkey- online creative survey, with more than 15 types of questions. This website allows you to view the results graphically and in real time. As an administrator I would use this when surveying my staff. After finishing the survey, I would copy and paste the link in an email and send out the link to staff.
2.2. Rubistar- creates rubrics for many different subjects, including oral presentations, writing, math, reading skills, etc. Customization to what you want from your students. This is a great tool for middle and high school teachers, as you can insert your own point and criteria.
2.3. Rcampus- allows users to create ePortfolios, create websites, access rubrics for assignments, etc. As an administrator I would encourage junior and seniors in high school to create an ePortfolio to share with colleges and potential employers.
2.4. Polldaddy- another online survey website, which can be used for polls, quizzes or ratings. I would utilize this website very similarly to surveymokey. It is an easy wbesite to use to create a quick survey.
3. Remembering
3.1. Creately- users can create customized diagrams using shapes, colors, uploading photos, videos and more. I would use this website as an administrator when displaying information regarding my schools projected budget, test scores or teacher survey information.
3.2. Zoho- allows user to upload projects or documents. As administator I would encourage staff to upload documents that I needed to look at. instead of handing me a paper copy. This website would allow me to look up their information and delete it after I had looked at it.
3.3. Wordnik- shows multiple definitions of the same word. This website would be used for higher level students, in highschool and college. Although this may not be as useful if I were an administrator I think it would be useful to an upperlevel english teacher.
3.4. Ninja Words- an online dictionary that looks words up very quickly. Much like wordnik, although it may not be useful to me as an administrator, I think other teachers and students would find it useful.