Selecting Apps for K-3rd Literacy Instruction
by
Madeleine Israelson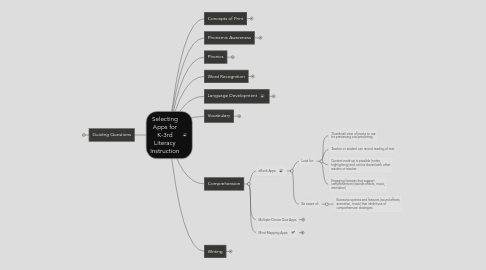 0.0
stars - reviews range from
0
to
5
Selecting Apps for K-3rd Literacy Instruction
App Selection Must be Guided by: Individual Learner Needs Instructional Objective Value added to instruction by using the App
Concepts of Print
eBook Apps
eBooks apps work well with guided practice. Shared reading experiences maximize concepts of print instruction with these apps.
eVersion of Traditional Tools
Generally these are not transformation apps.
Phonemic Awareness
eBook Apps
eBook apps allow phonemic awareness instruction that is connected to authentic reading. These apps have lots of affordances for other dimensions of literacy, too.
Rhyming Game Apps
Many rhyming game apps work with letters and sounds-do you want to focus ONLY on phonemic awareness, or do you want to work with graphemes and phonemes? These apps generally don't connect phonemic awareness to authentic reading and writing tasks; the teacher must make that connection. There are many of these apps available; they vary in quality. Be sure to spend some time reviewing. Apps that assess students' production and manipulation of phonemes do not seem to exist at present.
Phonics
Letter Knowledge
Alphabetic Principle
Word Recognition
Sight Word Apps
There is an abundance of these apps. They vary in quality. Many include "sight words" that may not actually be high frequency words. For many of these apps it is unclear where the word list comes from. Many of these apps are "eFlash cards," not authentic reading or writing activities
Word Family Apps
Language Development
When working with ELs language development apps can offer valuable positive affordances
eBook Apps
These apps can be used for students to experience repeated readings. These apps work best for language development as shared reading texts. Teacher will need to ask open-ended questions, discuss vocabulary, etc.
Recording Apps
Vocabulary
Dictionary Apps
In general thes apps do not work like traditional dictionaries where you can look up a specific word. They are more like a collection of illustrated nouns.
Game Apps
The words in these apps are generally thematically grouped nouns (ex. animals, weather, plants, etc.)
eBook Apps
These apps can be great authentic contexts for students to encounter vocabulary words.
Comprehension
eBook Apps
These apps have the potential to be powerful tools for comprehension strategy instruction. They must be reviewed for teacher's specific goals and objectives. Many of these apps have a cost associated with using them.
Multiple-Choice Quiz Apps
Mind-Mapping Apps
These apps would most likely require teacher modeling or guided use with beginning readers.
Writing
Composing Apps
These apps can be used for authentic writing purposes. They can be used for multimodal composing in a variety of genres. Many of these apps afford integration of reading and writing instruction.
Hand-Writing Apps
eVersions of Traditional Tools
Guiding Questions
Does this app offer value added to my instruction?
Can this app be used for multiple instructional goals?
Am I looking for an app for students to use independently or with adult assistance?
Will the multimodal features of this app be engaging? Motivating? Distracting?
Am I looking for an app to use with the whole class? A small group? Individual students?
If there is a gaming feature is it engaging or distracting?
Do I want to use technology as a replacement, amplification or transformation?