TAP - SWIPE - PINCH Utilizarea tabletelor în activitățile didactice
by Laurentiu Bulgaru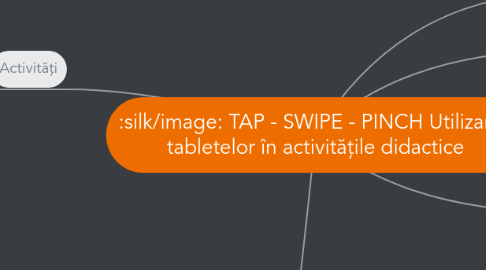 1. Formatori
1.1. Viljenka Savli - Slovenia
1.2. Peter Rafferty - Marea Britanie
1.3. Marika Kurvits - Estonia
1.4. Juri Kurvits - Estonia
1.5. Riku Alkio - Finlanda
2. Locație
2.1. Spania
2.1.1. Malaga
2.1.1.1. Benalmadena
2.1.1.1.1. Hotel THB Reserva del Higueron
3. Activități
3.1. Luni 16 martie
3.1.1. Meet GoogleDrive (Google Drive)
3.1.1.1. Google drive este o platformă pusă la dispoziție de Google care poate fi utilizată la partajarea documentelor între computere sau utilizatori
3.1.1.1.1. Google Docs - creare de documente
3.1.1.1.2. Google Sheets - creare de foi de lucru (Excel)
3.1.1.1.3. Google slides - creare de prezentări
3.1.1.1.4. Google forms - creare de formulare (teste)
3.1.1.1.5. Flubaroo - evaluare teste
3.1.2. Using Mind maps (Mindmeister)
3.1.2.1. Mindmeister este o platformă pe care se pot crea mindmaps
3.1.2.1.1. Varianta free permite crearea a trei hărți, sau până la încă 10 dacă prietenii invitați își crează cont pe platformă
3.1.3. Shall we say goodbye to paper books? - creating e-books (Book creator)
3.1.3.1. O cale simpla de a crea carti pe tableta sau telefon mobil; se pot adauga poze, texte, muzica, video;
3.1.3.1.1. Cum o carte buna merita citita, creatia se poate posta pe Facebook, Twiter, Apple's iBooks Store sau Google Play Books;
3.1.4. Bring your life's work together in one digital workspace (Evernote)
3.1.4.1. Un spatiu de lucru unde se pote depozita proiectele de zi cu zi; poate fi accesat de pe telefon, tableta, calculator;
3.2. Marți 17 martie
3.2.1. Make your documents and images interactives (QR code)
3.2.1.1. QR Code = Quick Responde Code
3.2.1.1.1. QR Creator este o aplicație care permite transformarea textelor, linkurilor, etc în coduri cu răspuns rapid, care pot fi scanate și descifrate cu ajutorul aplicației QR Reader
3.2.1.1.2. Thinglink permite integrarea de link-uri URL în imagini
3.2.2. A picture is worth a thousand words (photo-story) (Loopster)
3.2.3. Make any video with audio-notes and questions an interactive experience (EDpuzzle)
3.2.3.1. Disponibila pentru IPhone si IPad
3.2.3.2. EDpuzzle este o modalitate simplă și eficientă de a livra inregistrari(filme) în sala de clasă . Filmul nu mai este o experiență pasivă , cu EDpuzzle, intervine cu audio - note și întrebări .
3.2.4. Assigning, collecting and reviewing student work in tablet (Showbie)
3.3. Miercuri 18 martie
3.3.1. Assessing student's work in tablet classroom (Kahoot, Socrative, Learning Apps)
3.3.1.1. Kahoot este oplatformă care permite crearea de teste care pot fi rulate în timp real sub formă de concursuri
3.3.1.2. Socrative este o aplicatie utila testarii elevilor; rezultatele sunt primite imediat, lucru care contribuie la adaptarea procesului instructiv-educativ la nivelul clasei;
3.3.1.2.1. Socrative Teacher- aplicatia care permite realizarea testului de catre profesor si care contine o analiza amanuntita a rezultatelor obtinute;
3.3.1.2.2. Socrative Student - aplicatia unde se inscrie elevul pentru a participa la test;
3.3.1.3. Learning Apps este o altă platformă ce permite crearea unui număr mare de aplicații care pot fi utilizate drept activități de învățare
3.3.2. Blogging for flipped classroom (Blogger)
3.3.2.1. Permite crearea unui blog
3.3.3. The upside down tablet-oriented classrooms (Nearpod)
3.3.3.1. Nearpod este o platformă și o aplicație care permite crearea de prezentări interactive care pot avea inserate activități de învățare și fixare a cunoștințelor.
3.3.4. How Can I Flip my Lessons? (ShowMe, Lensoo Creator)
3.3.4.1. Lensoo si ShowMe permit transformarea dispozitivului mobil în tablă interactivă.
3.4. Joi 19 martie
3.4.1. SmartFeet-platform
3.5. Vineri 20 martie
3.5.1. Handling / Reflecting tablets to PCs, smart TV (Apple TV, CromCast, Micro HDMI adapters)
3.5.2. Application of tablets in the professional context (EdShelf, web 2.0)
3.5.3. Augment the scene with additional information (Aurasma)
3.5.4. How to Develop Tablet Habits in Class
4. Dispozitive
4.1. Android
4.2. iOS (iPad)
4.3. Windows
5. Participanți
5.1. Bulgaria
5.1.1. Asen Alexandrov
5.1.2. Lachezar Georgiev Petrov
5.1.3. Deyana Hristova Milusheva
5.1.4. Antoanela Slaveykova Kamenova-Ivanova
5.1.5. Adelina Hristova Gugutkova
5.1.6. Irena Georgieva Yotova
5.1.7. Iveta Nikolaeva Mehmedali
5.1.8. Zdravka Angelova Delieva
5.1.9. Mariya Stancheva
5.1.10. Mira Koleva Ivanova
5.2. Croatia
5.2.1. Ana Karlović
5.3. Cipru
5.3.1. Nicoleta Kalatha
5.4. Danemarca
5.4.1. Irmgard Kamp-Schmidt
5.4.2. Mette Schultz Soerensen
5.4.3. Helle Nørgaard Jepsen
5.4.4. Tina Mielke Ravn
5.4.5. Sofie Louise Juhl Riisgaard
5.4.6. Mikkel Ammitzböll
5.5. Estonia
5.5.1. Svea Sokka
5.6. Finlanda
5.6.1. Marko Kuuskorpi
5.6.2. Perttu Peltonen
5.6.3. Tiina Koskinen
5.6.4. Milla Mikander
5.6.5. Susanna Oksanen
5.7. Germania
5.7.1. Rainer Blasius
5.7.2. Thomas Schneider
5.7.3. Tomislav Grabic
5.7.4. Matthias Heinz Burger
5.8. Grecia
5.8.1. Palassi Adelfidou
5.8.2. Garifallia Domouchtsidou
5.8.3. Aikaterini Tsamouri
5.9. Italia
5.9.1. Castaldo Roberto
5.9.2. Silvia Tegner
5.9.3. Alessandra Cantini
5.10. Letonia
5.10.1. Jana Andrejeva
5.10.2. Kristine Bardule
5.11. Olanda
5.11.1. Clea van der Vorst
5.11.2. Freek Lamberts
5.11.3. Jeroen de Ruijter
5.11.4. Tim Jonker
5.12. Polonia
5.12.1. Anna Sikora
5.12.2. Ewa Kalbarczyk
5.13. România
5.13.1. Mădălina Alexandru
5.13.2. Mariana Răvaș Centa
5.13.3. Doina Boboc
5.13.4. Laurențiu Bulgaru
5.13.5. Raluca VAsile-Iorga
5.14. Turcia
5.14.1. Selim Tekin
5.14.2. Yucel Akbal