communicate
by
Ashley Marsh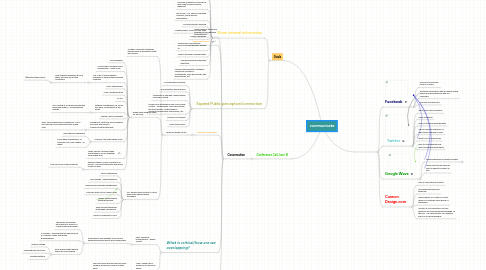 0.0
stars - reviews range from
0
to
5
communicate
Social Tools
Facebook
Good for connecting - millions of users
Employee reservations about sharing mixing personal and professional with ALL coworkers.
Not easy to share docs.
Twitter
Quick, easy communication
short and sweet
Difficult to share large thoughts
Can be publicly displayed, no login/invite required to view
great tool for sharing links
Easy to communicate and direct messaging with others
Google Wave
Ongoing dialogue is instant and easy, New node
Users need to have specific login to share/comment on tool
Cannon Design.com
Lots of informational content
Accessibie internally and externally
Responsibility for content is in the hands of a relatively small group of individuals
Content is not interactive. The site functions as a billboard/media package for the firm. No opportunities for individual input or on-going dialogue
Goals
Share internal information
Personal Employee Profiles
Project Based Knowledge
Calendar of events and follow up resources (lunch and learns, webinars)
Day to day - HR, Payroll, employee contacts, office specific informations
Focused product research
Marketing wins, Cannon in the news
Codes, references
New product information - lessons learned/projects applied to
Project focused communication
Connecting projects with the right staff
Internal communication related to unique firm initiatives - sustainability, open hand studio, the third teacher, etc.
Expand Public perception/connection
'An Ideas Based Practice'
Firm Expertise and Research
Individuals as Thought Leaders within a broader context
Unique Firm Initiatives as part of a broader context - sustainability, open hand studio, the third teacher, relationships to academic/professional associations, etc.
Portfolio and Awards
Client testimonials
Conference Call June 16
Conversation
What needs to be done to prepare for the Thursday presentations?
Agenda best effort
Integrate Presentations, What are people up to?, Cynthia: Corporate Strategies, haven't gone much beyond initial discussions, People have assigned tasks for the 23rd, Nick progress?, Social Media: reviewed Chris' presentation - ready to go, Joe: Corp. Cannon website, snapshot of existing and proposed condition, New software proposals are out there, lay them out for the committee, What doe these mean?, Kent: observations, Mark: Healthcare Blog, JT: BIM, Kathleen and Barbara: HR, some info back, HR snapshot in the works, Also looking at a tracking prospective employee system - comprehensive change, Puerner: work in progress, Sharepoint: Most task force members are saavy with current infrastructure/architecture, Kent: 45 mins devoted to Sharepoint - try to be sure task force understands the "power user", Financial: tool with Deltek Vision, Role Specific Dashboard, 9 min webx presentation, no evaluation yet, early stages, 1 yr reality, Jason Farnum: Portfolio/Open Asset/Axomic are all "together" consolidate time, Western Region: Survey Monkey to all offices - personal/interaction with social media for work, How can social media enhance?, STL: People need comfort in using these tools without being "punished", Social Networking, Use of Blogs - internal/external, Sharepoint knowledge management, Common portal for all Cannon folks, History: usage/what's working/trending, Share survey/sharepoint knowledge managment, Project Collaboration Tools
What is critical/how are we overlapping?, Kent: Individual presentations - webex format, Alternatively: one delegate from each of these teams would like to lead conversation, Should we consolidate discussions to allow for a concentrated discussion?, Is Michael J. implying that we should focus on "themes" rather than group presentations?, Kent: hopeful that regional teams will look forward., Radical Change, Organizational Structure, Working patterns, Mark: if each office presents, it'll reinforce needs, We'll see tracks that will need to move forward, divide and conquer at that point
Do we go to meeting for this?, Ideal for Cynthia, Remote presenters?