Stakeholder SWOT Analysis
by
stakeholder map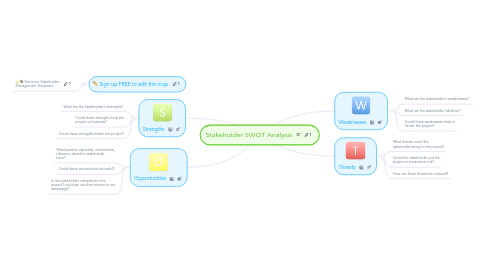 5.0
stars -
1
reviews range from
0
to
5
This stakeholder SWOT analysis tool is quick and easy to use. It is best completed as part of a team and should be focussed on a few key stakeholders.
Strengths
For example: Seniority Decision making Setting out the vision Expertise/guru Creating a buzz
What are the Stakeholder's strengths?
Could those strengths help the project or business?
Could these strengths hinder the project?
Threats
For example: Negative attitude Competing initiatives Change of strategy Poor results
What threats could the stakeholder bring to the project?
Could the stakeholder put the project or business at risk?
How can these threats be reduced?
Weaknesses
For example: Lack of time Tendency to customise Other high priorities Lack of knowledge
What are the stakeholder's weaknessess?
What are the stakeholder liabilities?
Could these weaknesses help or hinder the project?
Opportunities
For example: Access to wider networks Turn into champions Potential new communication routes Raise profile in new areas Potentially great influence
What positive expertise, connections, influence does the stakeholder have?
Could these connections be useful?
Is the stakeholder interested in the project? could we use that interest to our advantage?